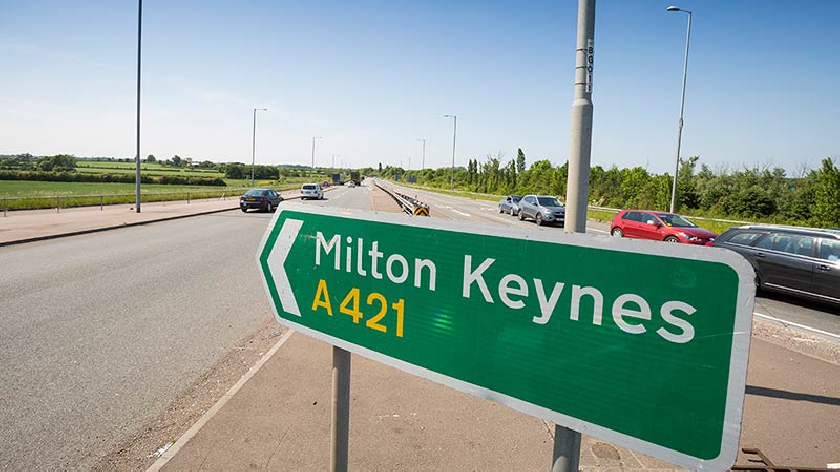 A vital road upgrade, supported by £22.5million in Government funding, will ease traffic in and around Milton Keynes as well as unlocking thousands of jobs and new homes.
Transport Secretary Chris Grayling visited Bedfordshire today to meet Iain Stewart MP and Nadine Dorries MP and to reveal the new investment in the A421, which will enable the last stretch between Milton Keynes and the M1 to be turned into a dual carriageway.
Central Bedfordshire and Milton Keynes councils are also providing £4.6million for the project, with a further £1m coming from South East Midlands Local Enterprise Partnership (SEMLEP).
When the scheme is complete, motorists will benefit from faster and safer journeys. Currently there are nearly 30,000 vehicles using the road every day – more than double its capacity.
Transport Secretary Chris Grayling said:
"Better transport facilities don't just help people get around, they help them get on – connecting them to jobs, opportunities and supporting economic growth.
"This important project will complete the dualling of the A421 between the M1 and Milton Keynes, improving journeys for residents and opening up opportunities for businesses, employment, housing and leisure activities in the area."
The upgrade will also support the delivery of 2,900 new homes and up to 2,500 jobs, while existing businesses will benefit from better links to the M1 and the rest of the country.
Councillor James Jamieson, the Leader of Central Bedfordshire Council, said: "We are delighted to receive the confirmation of this government funding. The upgraded A421 road will provide future and existing residents with improved infrastructure that will open up opportunities for leisure activities, housing and employment. It will also help take traffic away from local parishes, increase safety, and benefit businesses and commuters."
In total, 3 kilometres of carriageway will be widened, including 2.5km in Central Bedfordshire, and 500 metres in Milton Keynes, linking Junction 13 of the M1 with the distribution site at Magna Park. This is the third and final part of large-scale project to improve roads between the Kingston roundabout and the M1.
Hilary Chipping, Acting Chief Executive of the SEMLEP, said: "Dualling the A421 from Eagle Farm in Milton Keynes to Junction 13 on the M1 will improve a key piece of the East-West infrastructure, critical to the Oxford-Milton Keynes-Cambridge Growth Corridor. It will open up more housing and employment growth opportunities in Central Bedfordshire and Milton Keynes. "I am delighted that this project has finally been approved by the Department for Transport. This is the result of strong partnership working between Central Bedfordshire Council, Milton Keynes Council and SEMLEP."
Works are due to start within weeks and the scheme is due to be completed in autumn 2019.