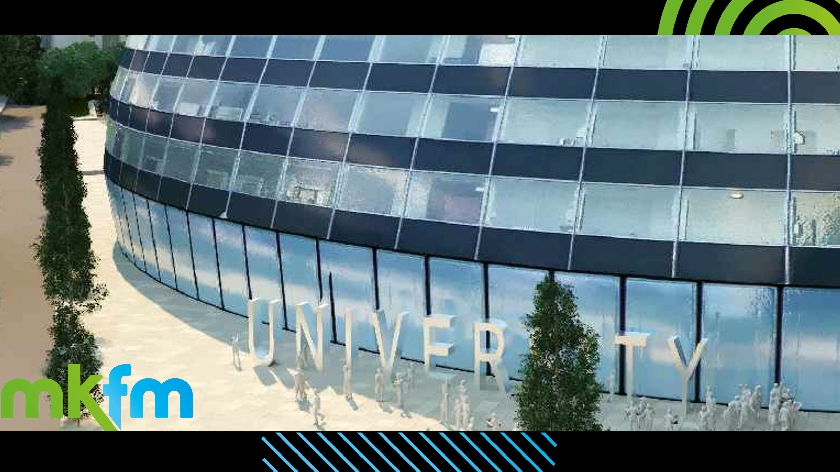 Image: Artists impression of MKU
On Thursday (19 January) it was announced that Milton Keynes had lost out on a multi-million-pound bid to create a new university for the city.
Last year, a bid was submitted Milton Keynes City Council and Cranfield University had joined forces to Government's Levelling-up Fund to provide a home for MK:U, a new university focussed on high-tech skills.
Funding would have gone towards expanding the range of degree apprenticeships and undergraduate degrees.
Local Labour councillors had raised the question as to why the city failed to secure the city, with the Labour Leader of Milton Keynes City Council, Cllr Peter Marland, stating that "Milton Keynes seems to suffer repeatedly because overall we are not one of the most deprived areas, we are in the Southeast and not part of the 'Red Wall', and we don't seem to have MPs capable of making our case in Westminster."
Back in August, a press release from Ben Everitt stated: 'Ben and Iain have both worked with officers at Milton Keynes Council to put forward a bid as part of the Levelling Up Fund to help deliver the next phase of growth for MK:U.' You can read more here.
Iain Stewart MP has commented: "Whilst it is disappointing that this particular bid has not been successful, Milton Keynes City Council will soon be receiving feedback from DLUHC on how it can improve the quality of its bid in future Levelling-Up Funding rounds.
"Clearly the quality of the Labour-ran Council's bid was not at the level of bids that other councils across the UK submitted, hence why it was unsuccessful. I want to put on record that my passion for MK:U is undiminished and I will continue to explore every avenue to see it become a reality as I truly believe in its potential.
"It is particularly disappointing that the Labour Leaders of Milton Keynes City Council have sought to politicise this when Ben and I have helped to secure so much Government investment in MK such as the East West Rail that is under construction, the new Maple Centre at the Milton Keynes University Hospital, the Blue Light Hub at Ashland and £23m to revitalise Bletchley through the Towns Fund Deal."