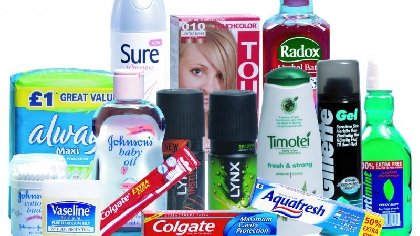 Last year it was 50,000 tins for the MK Food Bank. This year, it's 10,000 toiletries in 3 months! How can you help?
50,000 tins for the MK Food Bank
This time last year MKFM's Darren and Lia set their Community Challenge to raise 50,000 tins for the MK Food Bank in 90 days. Sadly, there are many people in Milton Keynes who are living on the edge of poverty. School holidays can place additional pressure on household budgets when free school meals aren't available.
The MK Food Bank relies entirely on donations of food and money from the public, businesses, organisations and individuals with every single item or penny donated making an enormous difference.
With your help, the support of Tesco Milton Keynes, Holiday Inn CMK and London Midland at Milton Keynes Central train station, last year we raised a staggering 64,000 tins!
10,000 Toiletries: 6th April – 6th July 2018
This year the MK Food Bank are in urgent need of toiletries including:
• Deodorant
• Toothbrushes
• Toothpaste
• Shampoo
• Conditioner
• Soaps – Hand and Body
Darren and Lia have set themselves another Community Challenge to raise 10,000 toiletries in 3 months, from 6th April to 6th July 2018.
So far, three weeks in to the 10,000 toiletries campaign, with your help we have already raised 4,739 toiletry items. These toiletries have already helped the MK Food Bank meet their aim of incorporating a basic supply in each adult food parcel.
How can you help?
Darren and Lia will have updates on MKFM's Breakfast Show every day. You can listen on 106.3FM and on DAB Digital Radio.
Drop your toiletries off
MKFM is based at the Intu Shopping centre opposite Gap just outside by the horseshoe. We have a donation point in our reception area, which is open Monday to Friday from 7am until 7pm and Saturday Mornings between 9am and 12pm; intu Milton Keynes, 417 Saxon Gate East, Milton Keynes MK9 3DX - 01908 230 149
Starbucks at intu have a collection point
The Disney Store at centre:mk are accepting donations
There is also be a donation point at Tesco Kingston and Tesco Wolverton at the front of the store to drop off your donated toiletries.
Prime Shine, local window cleaners, have kindly offered to collect any donated items from local businesses in Milton Keynes, 01908 850557.
Businesses
We are asking local businesses to donate £300 which will enable us to purchase 300 toiletries and get them delivered directly to the MK Foodbank.
For more information if you would like to take part, please email sales@mkfm.com
Together we can support the MK Food Bank, those in need in Milton Keynes and smash another MKFM Community Challenge!