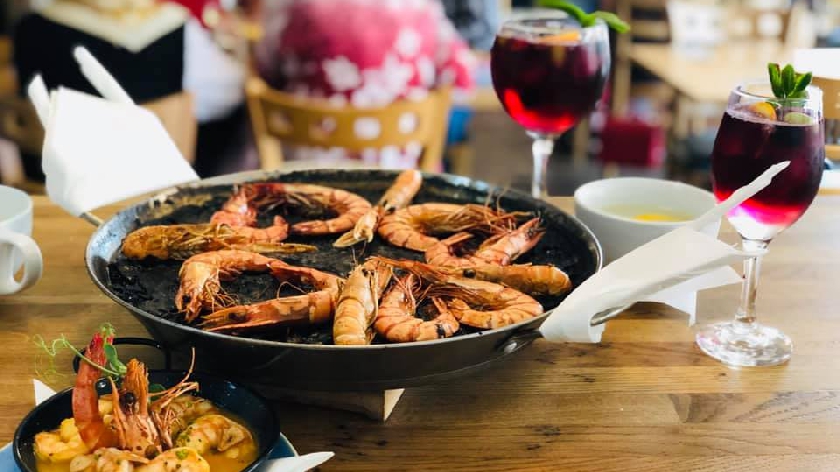 Photo: Olé Tapas Bar
Fancy trying some Spanish tapas this Bank Holiday weekend? Irish Jo visited Olé Tapas Bar in Wolverton Park, so expect a mouth-watering review...
Olé Tapas Bar is a family-owned business by a beautiful Spanish Family, Juan and Beatriz, and has been open for two years. After being invited down to try their food, I was looking forward to trying all of the different authentic Spanish bites they make.
It is tucked away down roads I've never driven down before. And, as I turned a corner I immediately spotted the modern, cool-looking restaurant and was excited to go in.
Upon arrival, all of the staff were incredibly friendly and welcoming. We were even greeted by the chefs, as the kitchen is exposed to the restaurant which makes for an interesting dining experience. The host sat us down straight away and had a nice chat with my young daughter, Laila, and it turned out the kind woman was the owner, Beatriz.
We were then brought some tasty appetisers and a menu, although the appetisers were so delicious it was hard to look at the menu! I had to ask where the olives were from and Juan, the owner, confirmed they were from Spain – I have never tasted olives like them. Alioli was the side served along with a homemade Tumaca which was just divine and so fresh (see picture 1).
As a family of three, we love to share so a platter seemed the most appropriate for us. We opted for the "Ole Platter", the portion size is MASSIVE and again comes with olives and breads (see picture 2).
The mix of flavours and tastes in the platter was amazing. The Chorizo lollipops were very tasty - the flavours mixed with the crunchy batter was out of this world. Their selection of croquettes was to die for and went down well with my 5-year-old as she loves a bit of beige.
By this point, we were all pretty full as we had eaten a lot! But wanting to experience the favourite flavours, I asked Beatriz to choose our dishes for us and they were all a hit, including a beautiful looking omelette for my daughter which when she sliced just oozed out onto the plate to my daughter's delight (see picture 3).
For the grown-ups, my other half's favourite was the pork and the crackling, "Pork loin", and how they made their potatoes – he is the meat lover of the family so this was an obvious one for him to love, but just look at the presentation (see picture 4). He said he didn't want to ruin the presentation, but of course, he couldn't resist eating it.
My favourite was the "Arroz Negro", squid ink rice with fresh cuttlefish and prawns, with extras of squid and octopus - the kind of squid I didn't even know you could get in the UK (see picture 5). We also had Meatballs with Mash (see picture 6), so for anyone afraid to experiment they have a beautiful version of this with their own Spanish twist.
All the colours and the presentation to all these dishes added to the authentic experience.
After dinner, I finally had the chance to sit down with Juan who explained how everything is freshly made on the day, and he told me how the chefs had been in since early morning preparing. Just like everybody, they struggled during lockdown so in April launched a takeaway menu including bottling up Sangria for customers who are dining at home.
They also launched a different type of takeaway, where they send you a partly cooked/uncooked dish which you then cook at home - I had never heard of this before but the point is to give the diner the full experience at home.
Then, when we finished, I was sent home with some bits - even the packaging is as attractive as the food (see picture 7)!
Not only was Olé Tapas Bar a beautiful restaurant with authentic Spanish flavours, a modern theme and welcoming staff, but you really felt the welcoming family atmosphere.
I would recommend a meal here first, and then a take away, so you get the full experience. It was a pleasure to be served by this lovely family and I even got to meet the lovely Andrea and Alex, who are Juan and Beatriz children. We will be back, and will be regulars!
Check out the gallery below:
You can book a table or order takeaway by calling 01908 314309 or visiting their website.
Olé Tapas Bar is located at 60 The Triangle Building, Wolverton Park Road, Wolverton, MK12 5FJ.