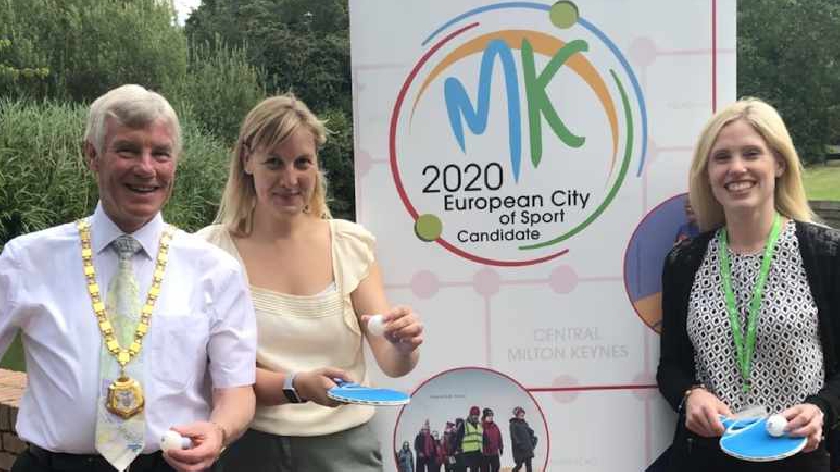 Cllr Sam Crooks (Mayor of MK) Cllr Jenny Marlew and Vicki Clarke
Milton Keynes has won its bid to be named European City of Sport in 2020.
The accolade was officially announced at a ceremony in Great Linford today, by the Mayor of Milton Keynes, Cllr Sam Crooks. He told MKFM that it was great news, and that the award would do three key things for the City:
"It'll unlock a great deal of investment. People will want to invest in what we're doing in the sporting field. It will unlock opportunity too - we'll have more Greg Pickerings and more Greg Rutherfords. Kids here can see their future in sport because of role models like this.
"The third thing is pride in our city. It's another first for Milton Keynes - it gets us onto the national and European stage; that's the thing that I think is really important."
Vicki Clarke - Sports Development Manager at MK Council spoke to MKFM about the bidding process and what happens next.
"For the last six months we have been putting together a bid about everything in MK to do with sport and physical activity. We've shared all the information about clubs, opportunities, grass-roots clubs, health walks and a number of other opportunities around the city. We've talked too about all the sporting heroes from MK, really sharing the sporting story of MK.
"The aim for us [through this accolade] is to raise awareness of existing opportunities - we've got a lot going on in MK, and a lot of people aren't necessarily aware. It's about trying to introduce new opportunities too, especially in areas of need. We're trying to get as many people active as possible.
"We're looking to have an events programme; there will be opportunities throughout the year for people to engage in the ECOS activities. We would encourage individuals, friends, families and community groups to all come together to talk about events that they could host, to be part of the fun.
The European Cities and Capitals of Sport Federation (ACES Europe) champions the use of sport to improve people's quality of life, physical and mental wellbeing.
MK won the title after hosting a visit by delegates and was praised for its sporting provision, partnership approach and about how forward-thinking and innovative Milton Keynes is. They plan to raise awareness of the vast array of exisiting sports and activity in MK.
A year of events will be kicked off to put sport in the spotlight and build-up for the UEFA Women's Euro's Football tournament in 2021.