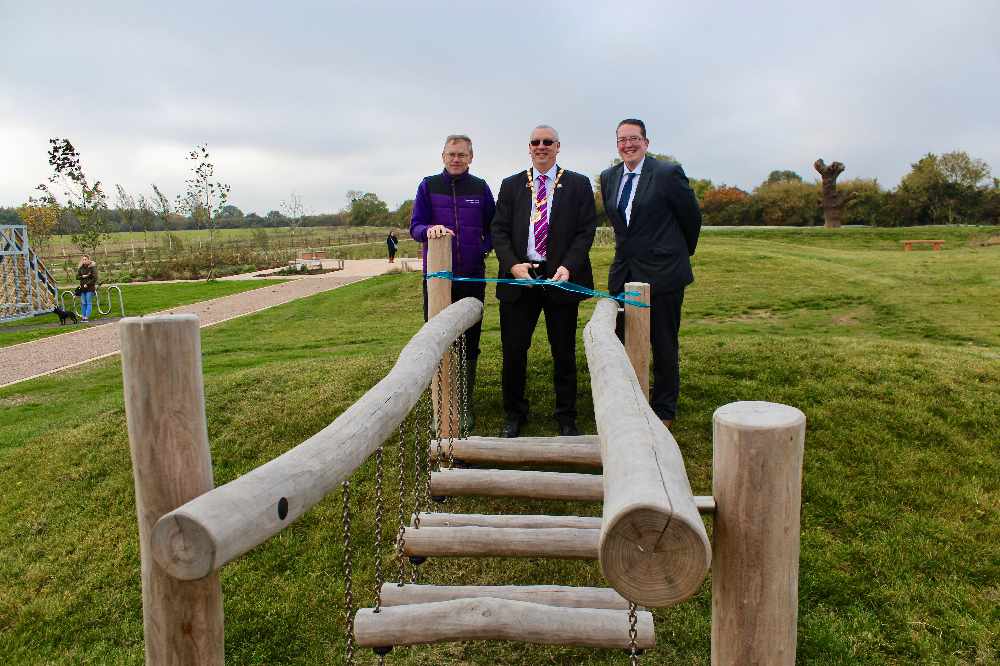 MK's newest play area near to Crownhill was officially opened today by the Mayor of Milton Keynes, Cllr Steve Coventry.
The new play area is located at Whitehouse Park. Phil Bowsher from the Parks Trust and James Mooney from Gallagher Estates also attended the official opening, alongside members of the local community. There were also games and free cupcakes for children provided by the MK Play Association.
The playpark features a zip wire, slide, climbing frame, see-saw and basketball court. It has been provided by the lead developers of the site, Gallagher and will be handed over to the Parks Trust who will manage and maintain the site in the future using funding from the Milton Keynes development Tariff.
Phil Bowsher, Head of Landscape, Strategy & Development at The Parks Trust, commented: "We very much enjoyed attending the official opening of the Whitehouse Park play area."
"Milton Keynes is fortunate in that as the city grows, so does the green space available for its residents and visitors to enjoy."
"This play area is the latest example of that, and we look forward to working with the Council over the coming weeks to ensure it continues to offer a fun, safe environment for children and their families. We are sure it will prove particularly popular this half term!"
James Mooney, Project Manager for Gallagher Estates, added: "As one of the largest development companies in the UK we are delighted, following the opening of the first primary school last month, to now deliver the first of many children's play areas within the Western Expansion Area."
"Extensive public consultation and proactive partnerships between stakeholders has ensured a wide range of activities have been provided for children of all ages to enjoy. We hope it is a great success and enjoyed by this and future generations."