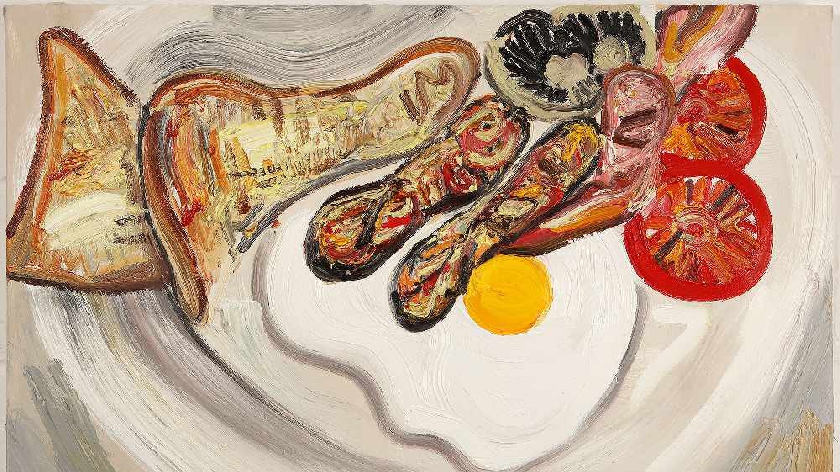 Archie Franks Full English Breakfast, 2016 Oil on canvas 70 x 96 x 2 cm Image Courtesy of Archie Franks
Opening on 15th February 2020, this vibrant and contemporary show in Milton Keynes exhibits local, national and international artists working across many art forms.
Featuring over 130 artists across five world class gallery spaces, MK Calling 2020 is MK Gallery's first open call submission exhibition in the re-developed and extended building that opened in March 2019. The exhibition will showcase a range of established and up and coming artists, celebrating the best of contemporary artistic practice.
MK Calling 2020 will be presenting the most dynamic work being made today including work by Royal Academicians, and alumni of The British Art Show, John Moores Painting Prize and New Contemporaries.
The eclectic show, selected by MK Gallery together with Stephanie Macdonald, co-Founding Director of 6a Architects and artist Stuart Whipps, features numerous pieces that address contemporary issues such as the environment and the political climate, as well as a number of playful, interactive and performative works. With the exhibition taking place in the new town of Milton Keynes and with a third of artists local to the area, a lot of the work also engages with ideas around cities and architecture.
Throughout the exhibition, there will also be a chance to meet some of the featured artists and take part in guided tours.
Anthony Spira, Director at MK Gallery, said "This is a wonderfully eclectic exhibition that attracted a huge number of submissions that enthralled and inspired the judging panel. We are thrilled to be able to create an open call exhibition of such ambition and quality here in Milton Keynes. There really is something for everyone in the show, and we look forward to welcoming many new visitors to MK Gallery to experience MK Calling 2020."
There are two awards that featured artists will compete for:
MK Calling Selectors Award – A cash prize of £4,000 will be awarded to a single artist or collective selected by the panel. The winner will be announced at the exhibition opening.
Audience Award – A cash prize of £1,000 will be awarded to the artist who receive the most votes from visitors during the exhibition.
MK Calling at MK Gallery, Milton Keynes, 15th February – 17th May 2020. Find out more at mkgallery.org/mkcalling2020