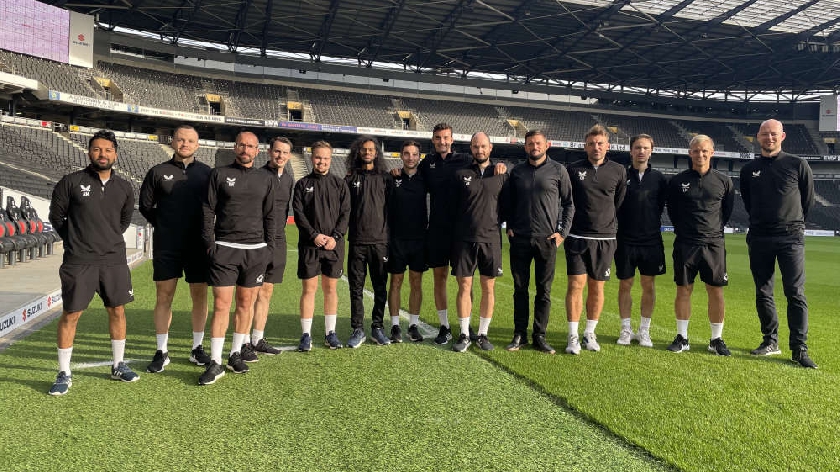 Staff at MK Dons will be travelling 4,912 miles on foot, raising money for two charities close to home.
The football club are due to travel 4,912 miles to matches this season and the first-team and Academy staff will be matching the miles on foot, in aid of two charities which have a personal meaning to those involved with the club.
Football staff including Liam Manning, Liam Sweeting and Simon Crampton will be running or walking a combined 4,912 miles over the course of 38 weeks.
The challenge will be in aid of two charities, one being Histiocytosis UK.
Histiocytosis UK funds research into uncovering the causes of Histiocytic diseases, such as Haemophagocytic Lymphohistiocytosis (HLH). In May of this year, much-loved MK Dons colleague, Lucy Dawson, passed away from HLH at the age of just 24.
By raising money for Histiocytosis UK, the team says it hopes to help raise awareness, back research and support for families such as Lucy's.
Staff will also be raising funds for Cancer Research UK, the world's leading independent cancer charity dedicated to saving lives through research, influence and information. This charity is close to home for the team with MK Dons Goalkeeper Coach Lewis Price currently battling testicular cancer.
Head Coach Liam Manning said: "We, as a staff, were keen to show our support for the family and friends of Lucy Dawson, as well as Lewis Price as he fights against testicular cancer.
"It will be a season-long commitment from the staff that will, certainly require discipline and hard-work, but that is nothing in comparison to what the families of Lucy and Lewis are going through at this challenging time – we wanted to do our bit to help."
You can find out more about the MK Dons Staff Challenge, or support the cause here.
Manning added: "We also urge people to support the Hike For Lucy, which will take place in October and see family and friends of Lucy climb Mount Snowdon in her memory.
"We, unfortunately, cannot be there to take part due to a league fixture but we want to see as many people as possible either taking part or supporting the Hike next month."
On October 8th, a team of friends, family and colleagues of Lucy Dawson will hike up Mount Snowdon in her memory to raise funds for HistioUK.
You can find out more and support the Hike for Lucy here.