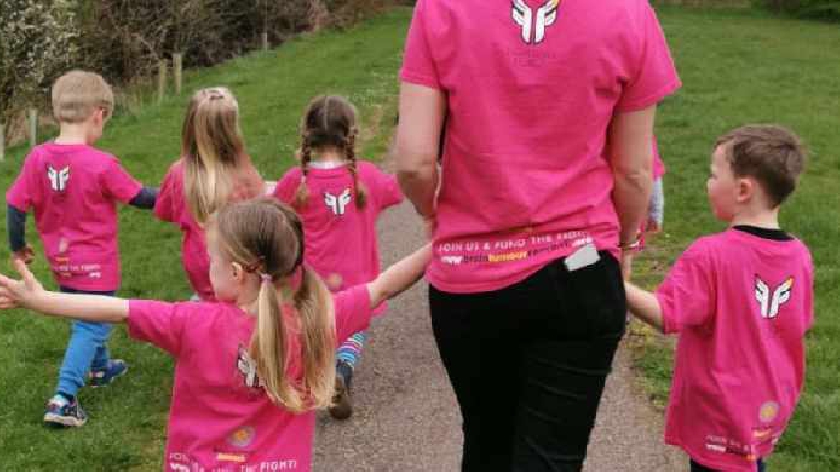 A Freshfields dad is celebrating five years on from his diagnosis with an aggressive brain tumour by organising a Big Little Walk of Hope with his young family.
Out of the blue, Tom Meager, then 26, had a seizure while working out at Pure Gym, Winter Hill. After the devastating diagnosis, Tom was given a survival prognosis of three to five years. His wife Tanya was then 14 weeks pregnant with their daughter Sienna, now aged four.
Tom, who works as a car mechanic, said: "It is such a great feeling to be fit and well and to have reached this significant five-year milestone. And we are delighted to have the added bonus of our miracle son Roman, born 10 months ago after doctors told us I would be infertile following my radiotherapy and chemotherapy treatment.
"To celebrate all my scans being clear to date, we will be taking part in the Brain Tumour Research charity's Big Little Walk of Hope and we are inviting friends and family to join us, including Sienna's little friends at Huggles childcare.
Brain tumours kill more children and adults under the age of 40 than any other cancer, yet, historically, just 1% of the national spend on cancer research has been allocated to this devastating disease.
The Big Little Walk will be held across the UK on 24 May, the last day before the summer half-term, although if this is not suitable, another date in May or June can be chosen. It is particularly aimed at little people up to the age of 12 in schools and pre-schools, giving them the opportunity to make big steps towards finding a cure for brain tumours while discovering more about the environment, enjoying fresh air and gaining exercise outdoors.
Paula Rastrick, community fundraising manager for Brain Tumour Research in the Central region, said: "We're delighted that Tom is doing so well five years on and that the family are celebrating by organising a Big Little Walk of Hope in Milton Keynes.
"With Big Little Walk of Hope, we are calling on families, pre-schools and schools to create a simple walk around an outdoor area which could be through a local woodland, along a river or nature trail, around a park or even laps around a school field. Our website has some useful ideas for families and teachers alike which you'll see once you've completed your registration.
"By signing up to participate in a Big Little Walk of Hope, you will be helping us raise awareness of the fact that less than 20% of those diagnosed with a brain tumour survive beyond five years, compared with an average of 50% across all cancers. We cannot allow this situation to continue so please join in the fun and help fund the fight against brain tumours."
Funds raised will develop the charity's network of world-class brain tumour research centres in the UK where scientists are focused in improving outcomes for patients and, ultimately, finding a cure.
For more information and to register for materials, including a lesson plan and sponsorship forms, go to www.braintumourresearch.org/big-little-walk