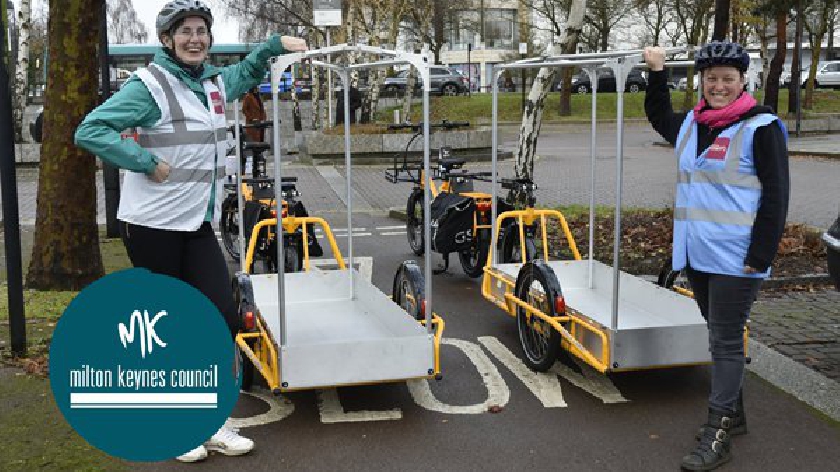 Milton Keynes Council has donated three fully electric e-cargo bikes to a local food redistribution charity.
MKC secured funding from the Department for Transport to purchase 21 e-cargo bikes earlier this year. Since then, Council tree inspectors and landscape officers have been using some of the bikes in their day-to-day duties, plus 12 have been made available for lease by local businesses and the rest have been set aside to donate to local charities and community groups to help their efforts.
Last week, MKC donated three e-cargo bikes to Food Connect, a MK based food redistribution charity set up by Hubbub, which delivers unwanted goods to local food banks and other organisations that arrange food parcels for people most in need.
Cllr Jenny Wilson-Marklew, Cabinet Member for Sustainability at MK Council, said: "Milton Keynes is a world-leader in green technology and MKC has set out its ambitions for MK to become zero-carbon by 2030.
"We're delighted to have been able to support the efforts of Food Connect, whose work is invaluable for some of the city's most vulnerable people to access food and other essentials, while also preventing waste."
The e-cargo bikes can help reduce transport costs and emissions, part of the council's work to lead the way with sustainable transport solutions.
MK Council's children social care team swapped to electric cars in 2019, in what was believed to be a UK first. Each social worker travels on average 150 miles per month, and the team shares four cars to make their short journeys around MK.
Helen Innes, from Food Connect in Milton Keynes, said: "We're incredibly grateful to MK Council for their support. We're really excited to start using the two e-cargo bikes – they'll make the delivery of essential food items to local community hubs much more efficient."
To find out more about MKC's green transport initiatives, visit the Get Smarter MK website www.getsmartertravelmk.org and follow @GetSmarterMK on social media.
If you're a business interested in transforming your deliveries with an e-cargo bike find out more online www.getsmartertravelmk.org/cycling/e-cargo-bikes.
© MKFM News 2020