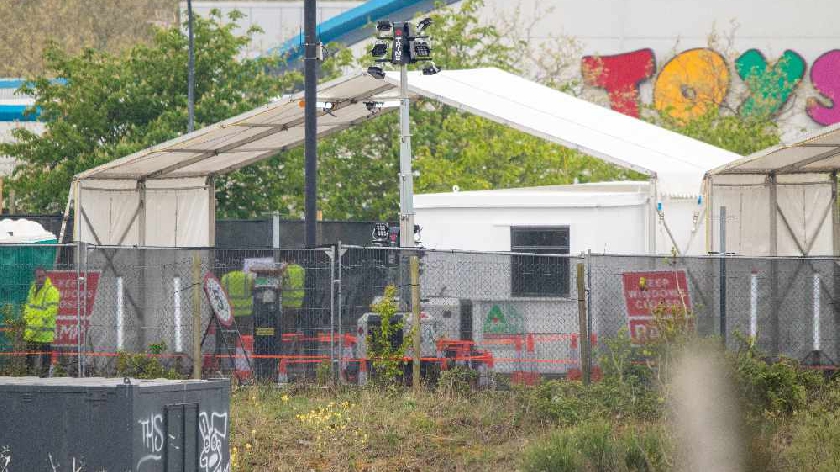 Milton Keynes Council did not know that a coronavirus test centre had opened in Central MK until the Chief Executive saw it outside of his window, MKFM can reveal.
The Council knew that Milton Keynes was going to have a drive-through test centre, but was not told when it would open or where it would be.
Speaking to MKFM, Leader of MK Council Cllr Pete Marland said they only found out when CEO Michael Bracey sent a picture of the centre from his apartment window.
He said: "When you get a picture message from the Chief Executive of Milton Keynes Council, who lives above Sainsbury's who opened his curtains one Sunday morning and a test centre had appeared, and you don't hear anything more of it for a few days and then next you do hear of it they have put online bookings on, and the road is jammed and they haven't approached planning or highways to see if it would be a good site."
Before the drive-through test centre opened, Milton Keynes Development Partnership (MKDP) were approached by Deloitte who are managing the site on behalf of the Government. MKDP was then told that it was not the preferred site and that they had another location in mind.
"That was all we heard of it," Cllr Marland continued. "Then, on the Sunday morning (19/4), the test centre had been built overnight. The Government basically gave a chunk of money to a whole load of private companies to deliver test centre. We weren't told who could be tested, we weren't told how people could access those tests. Ironically, some of those were meant to be for council staff and care workers but we weren't told how they could access those."
Within the first few days, hundreds of cars had flocked to the test centre and caused traffic jams which Cllr Marland said was "chaos".
"If I was being kind I would say it was poor, if I was being honest I would say it was a bit of a shambles," Cllr Marland added. "We had to emergency close the road because on Sunday it was backing up. I think the way it was communicated was also 'Go to Central Milton Keynes there's tests available', and so I think most people didn't even book."
This is the second time in two months that Milton Keynes Council has had to emergency close a road in CMK. In March, it was announced that roads surrounding Planet Ice would close to allow works for it to become an emergency morgue.
Cllr Marland has said that the city has been "lucky" that it has not been used yet. He said: "I couldn't imagine a situation where we would have had people having to access that facility at the same time [as the testing centre]. And, had we just been asked 'Is this a good place?', any person with any ounce of sense could tell you that it is a very small car park with a very small run in. Where would a queue go?
"Anybody could have told you that it's not the greatest place for the centre, but the testing capacity is now there and we've now got to make the best of it. We've got to make sure that particularly social care workers who are going into those care homes or who may be self-isolating, that we know where people are asymptomatic or have got mild symptoms so they are not going and communing that disease."