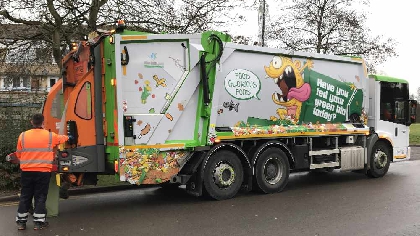 But Peter Marland says the local Tory leader has a 'Trump-like need for attention' in his search for a headline.
Local councillors are calling for an urgent investigation into Milton Keynes Council's recycling supply chain, with a demand for a deadline in a month's time.

50 Milton Keynes recycling sacks were found in a jungle in Malaysia as highlighted in a recent BBC documentary.

The Labour Party which has been running the Council for the past five years gave in to pressure by Conservatives to launch an investigation but more details have now come to light promoting a call for urgency.

Leader of the MK Conservatives Cllr Alex Walker says, "The public needs answers on where their recycling has been going. The Council has failed to provide them so far. First, they denied all responsibility blaming rogue businesses from outside MK stealing our recycling bags, then they admitted to plastic being sent to Taiwan and it has now emerged Viridor the main recycling contractor had - up until 23rd May 2019 - been shipping recycling to Asia and more recently Turkey.
Peter Marland, leader of the Labour-led council, responds, "Literally nothing has changed since I spoke to MKFM last week. The MK Conservatives are clearly increasingly desperate on this issue. I'm not sure how many times I can say the same thing without sounding boring.

"MK Council asked our contractors what happens to the recycling collected in MK, and they have been very clear. No unprocessed recycling is shipped abroad. The vast majority is recycled here in the UK. A small amount of processed plastic has been sent to Taiwan, which last time I consulted a map was in Asia, to manufacture into new items. Those supply chains and companies are overseen by the Environment Agency.

"Despite those assurances from our contractors, I have asked if those supply chains can be independently verified to provide extra reassurance. We will share those findings when they are ready. I would be massively disappointed and angry if they are not as robust as we've been led to believe, but I've no reason to think they will not be.
Walker insists that the public has been misled, "The Council seems to have either knowingly or unknowingly mislead the public at least once, perhaps several times. With the ever evolving revelations it is vital the Council holds an urgent investigation that reports back to no later than the Cabinet meeting on the 9th July and to publish immediately the terms of reference of the probe. A timely and thorough investigation is the only way Labour have a chance of restoring trust in our recycling system. We will not let Labour kick this in to the long grass."
However, Marland claims that Walker is simply looking for a headline, "The MK Tories seem to be knowingly conflating the movement of a small amount raw material to businesses with clear supply chains, and the illegal dumping around 50 unopened old MKC pink sacks in Malaysia. They are sadly undermining a very serious issue with their local leader's Trump-like need for attention and his complete disregard for the consequences so long as he gets a headline.

"The council is very clear. The most likely cause of the sacks found in the BBC documentary is misuse from the old free for all bag scheme that the Tories, until only one month ago, campaigned to bring back."