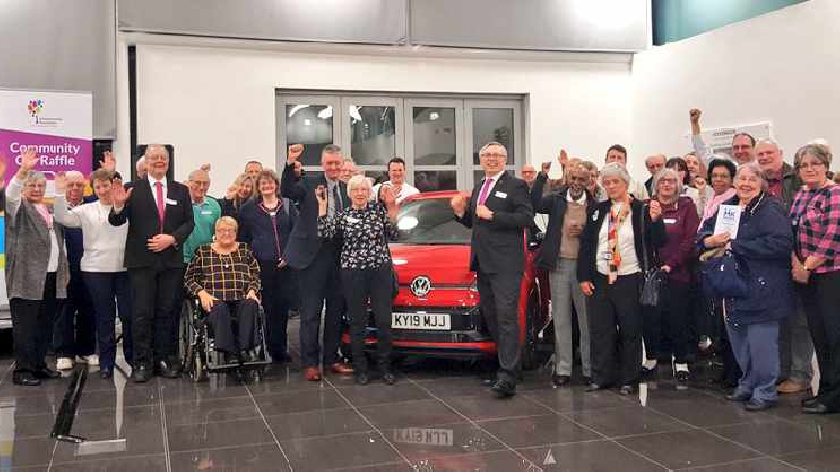 The Community Car Raffle presentation at the Volkswagen showroom in Milton Keynes on 20th March 2019.
The winner, Dori, was delighted to be presented with the keys to her new car, a Volkswagen up! GTI 3 door in Tornado Red!
Dori and her husband Ron have each bought a single ticket every year for as long as they can remember but had never really thought they would one day win! Dori and Ron have lived in MK for 20 years and were delighted to get the call from The Foundation letting them know they had the winning ticket!
Dori, MK Community Foundation Car Raffle winner said: "You don't expect to win these things and then it's such a surprise when you do!"
As well as the main prize, the 2nd and 3rd prize of £500 and £250 was announced as well as an award to 1st Crown Hill scouts of £100 for being the group that sold the winning Ticket!
A celebration for the community groups and charities who took part
The evening was a great chance for the community groups who took part to meet and celebrate all their hard work selling tickets that has collectively raised an incredible £21,829!
Community groups and charities who take part in the raffle retain at least 50% of the funds raised from ticket sales and the remaining money goes towards MK Community Foundation's grant making programme, benefiting community groups across Milton Keynes.
Our Partners
MK Community Foundation is extremely grateful to their partners Volkswagen UK Ltd, who donated the grand prize, centre:mk for supporting us by donating their valuable location in a very busy shopping period and Freestone Creative for creating our display graphics.
Rob de Young, Charities Committee Chair at Volkswagen Group, said: "The MK Community Foundation is an incredible local charity, so of course we were more than happy to donate a car to the cause, continuing a 30-year tradition at Volkswagen UK.
"It's great to be able to give back to our local community. We're thrilled to have a new Volkswagen fan in Dori, and we're sure she'll be very happy with her brand new Volkswagen up! GTI."