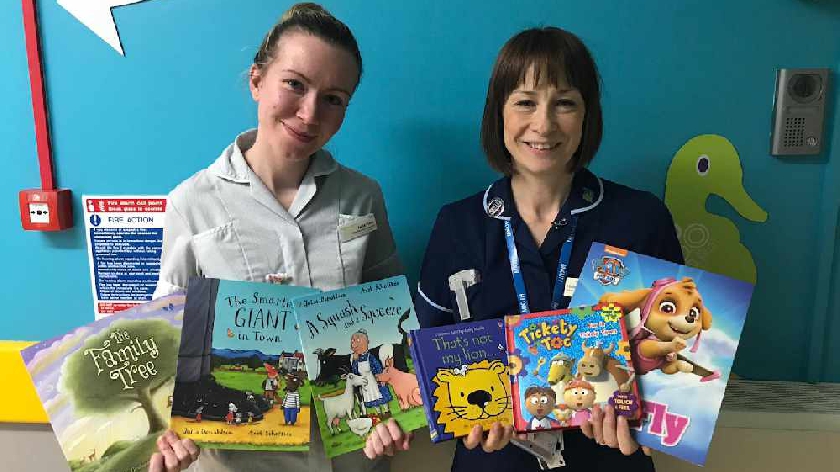 Water Babies Bucks and Beds donated a large box of books to the Children's Ward at Milton Keynes University Hospital.
For World Book Day, on the 7th March, children of all ages are usually encouraged to dress up as a character from their favourite book. However, in an effort to support the youngest patients at Milton Keynes University Hospital, Water Babies Bucks and Beds, local children's swimming school, opted for a charitable approach instead. They encouraged their little swimmers to bring in a pre-loved book from home, to be donated to the children being treated on the numerous wards across the hospital.
In the week leading up to the national awareness date, Tamsin Brewis and her team of Milton Keynes-based teachers gratefully received donations of children's books from their generous little swimmers. With the help of mums, dads, grandparents and friends, a bundle of books were collected pool-side, at Horwood House, the Holiday Inn MK, Woughton Leisure Centre, DW Sports MK and at Milton Keynes University Hospital.
Once all donations were collected, Tamsin and the office team hand-delivered the donations to the medical team at Milton Keynes University Hospital, so that they could be handed out to children staying on the various specialist wards.
Tamsin, who has owned and operated the swim-school for close to fifteen years, is keen to give back to local NHS-funded organisations, specifically as many of the children she has taught over the years have relied on the care administered by the specialists at Milton Keynes Hospital.
"The work done by the incredible staff is nothing short of fantastic so we're happy to support in any way that we can," she said. "Many of the children staying on the Children's Ward are going through a really scary time. Reaching for book is a great way to escape the uncertainty of being away from home, whether they are the patient, or perhaps visiting an unwell sibling or loved one. We hope our donations put a smile on the faces of some local children who might really need the escape.
"Thank you to all of the children who donated so many lovely books. It's so wonderful to see just how much our families are willing to support others in their time of need – we're hoping we can repeat these collections again next year!"