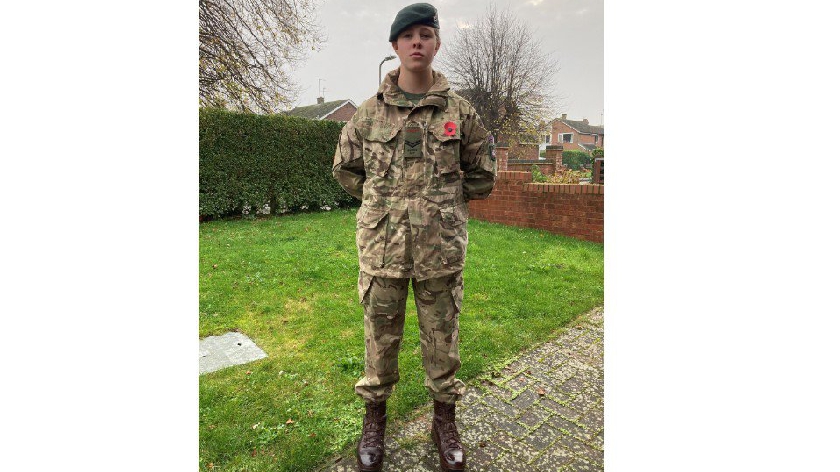 On Christmas morning, when most teenagers are likely to be opening presents in their pyjamas, a local 16-year-old will be speed-marching.
Scarlett Malleson-Hull, 16, from Stony Stratford is doing this to raise funds for Help for Heroes.
Scarlett, who hopes to join the British Army in March 2021, will be carrying 15kg in a Bergen rucksack and wearing heavy Army boots to simulate a military 'loaded march' known as a 'tab'.
Scarlett has wanted to do a charity challenge for a long time. She decided to do her 'Weighted Half Marathon Speed March' fundraising event for Help for Heroes as she wants to give back to those who have served in the Armed Forces who aren't able to enjoy a family Christmas.
Many who serve their country are working away from home over the festive season, and some sign up to the Armed Forces to get away from family problems so this can make Christmas a difficult time. For those wounded veterans supported by Help for Heroes, their physical injuries may impact on their ability to get together with family and friends, while many with mental health issues often find social gatherings make them feel stressed and anxious. The charity's recovery services help veterans who have suffered injury or illness as a result of their service, and their families too.
Scarlett's interest in the military comes from being in the Army Cadets for four years, giving her insight into the lifestyle and structure of Army life which she has really enjoyed. In addition, her 78-year-old grandfather, Andy, from Milton Keynes, served in the Kings Royal Hussars for three years. His stories from his time in the Army intrigued and appealed to her and he is very supportive of her decision to apply to join the Prince of Wales Royal Regiment.
About her big challenge, Scarlett says, "For those in the military, not everyone gets to spend Christmas with their family. That's why I decided I wanted to honour people in the Armed Forces by doing my own military challenge on Christmas morning. At this time of year, it's important to remember those who are less fortunate, and Help for Heroes does such a lot to support wounded veterans who need help."
Although Scarlett is doing her Weighted Half Marathon Speed March on her own, she will be cheered along her route by her family and will end it at the Stony Stratford War Memorial on Horsefair Green before heading home for a well-deserved Christmas dinner.
The timing of Scarlett's challenge to raise funds for Help for Heroes could not be more important as the need to support veterans has never been greater. The charity's funding has been hit hard this year due to the pandemic, with all its face-to-face fundraising events and activities since April being either cancelled or postponed, and it is facing a 30% reduction in regular income over the next few years. At the same time, it has seen a 33% increase in wounded veterans coming forward for mental health support and a 30% increase in referrals to veterans' clinical services.
Beth Miles, Director of Marketing, Communications and Public Affairs for Help for Heroes, comments, "2020 has been tough for everyone across the country, and as a charity we have seen a significant impact on our fundraising activities. We simply couldn't provide the support we do without the huge efforts and generosity of people like Scarlett, and we are very grateful to her and everyone who contributes to our fundraising efforts."
Click here to donate to Scarlett's fundraiser.
© MKFM News 2020