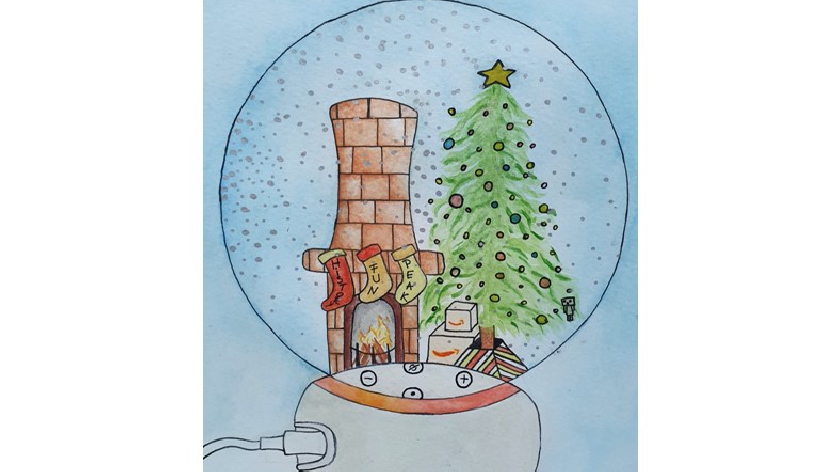 A teenager from Milton Keynes has beaten entries from across the UK to win one of the top prizes in a festive postcard competition.
Alexandra Lonescu, who works as an associate at Amazon in Milton Keynes, entered her 14-year-old daughter Roxana's design into a national competition run across all of Amazon's UK sites.
As one of five runner ups in the 12-17 age category, Alexandra and Roxana received a £100 Amazon voucher in recognition of their creative festive postcard design.
The competition is part of a longstanding partnership between Amazon and the charity Magic Breakfast, which provides healthy breakfasts to children in disadvantaged areas of the UK to combat food poverty.
When schools shut earlier this year due to COVID-19, Amazon worked with Magic Breakfast to deliver food parcels directly to the doorsteps of thousands of children around the UK. Amazon has now delivered two million meals to vulnerable children across the UK this year.
The festive card competition challenged Amazon team members and their families to design a festive-themed postcard to be included in boxes of Magic Breakfast food delivered to families throughout December. Entries were judged on inclusion of festive elements, positive messages, creativity, inclusivity and appropriateness for all audiences. Alexandra and Roxana's design features a festive snow globe attached to an Amazon Echo device.
Alexandra said: "I absolutely love the festive season and I can't believe Roxana's card has come runner up in a national competition! Thank you, Amazon, for our £100 voucher – we will be treating ourselves."
Shauli Ziv, General Manager at Amazon in Milton Keynes, added: "Everyone at Amazon in Milton Keynes is proud of Roxana and we all send our congratulations to her. We were so pleased to hear that the runner up in Amazon's national competition was one of our own here at Amazon in Milton Keynes and hope they enjoy their well-deserved prize."
© MKFM News 2020