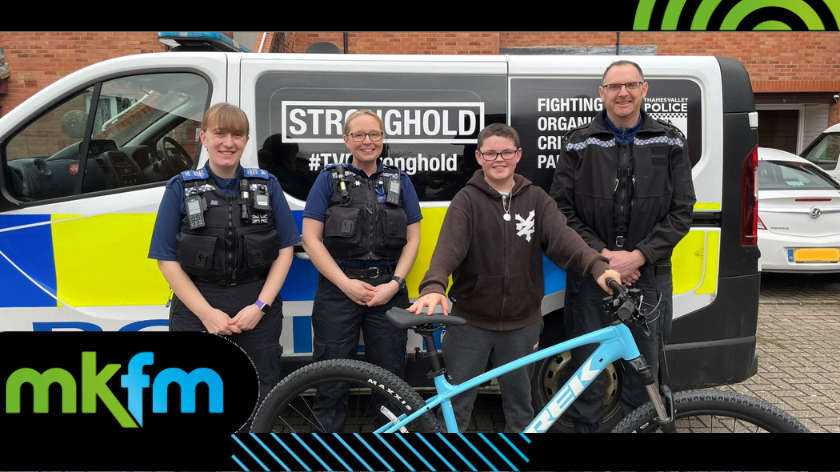 A Milton Keynes boy who had his bike robbed on his way home from school has been gifted a new one by PCSO's and staff from Trek Bikes.
PCSOs from the South Milton Keynes neighbourhood team and staff from Trek Bikes have donated a new bicycle to an 11-year-old boy from the city after his was robbed on his way home from school earlier this month.
The bike, a custom-made Trek bike, had been Christopher's pride and joy and his way of making his journey to and from school each day.
When PCSO Paul Colborne and PCSO Craig Hawksworth met with Christopher as part of their patrols, they learned how his confidence had been knocked and that his independence had been impacted now he was without his bike.
The PCSOs approached Trek bikes, shared Christopher's story with them and asked if there was any way they could help.
Trek kindly donated a new bike which was built and safety tested by staff at the Milton Keynes store. Members of the South Milton Keynes neighbourhood team were able to pick up this week and then paid Christopher a visit.
PCSO Paul Colborne said: "When Craig and I met with Christopher and learned about the robbery, we both wanted to do something to help him get his confidence back. We approached Trek and were thrilled when they agreed to help so generously. A huge thank you to Gareth and Paul at Trek for their support!
"It was incredibly rewarding to see the smile on Christopher's face when we surprised him with the bike and watch him cycling up and down his street."
Christopher's mother, Terry, said: "Christopher's dad and I are so grateful to both Thames Valley Police and Trek for their hard work, generosity and compassion throughout."
Two men from Milton Keynes have been arrested on suspicion of robbery and have been released under investigation.