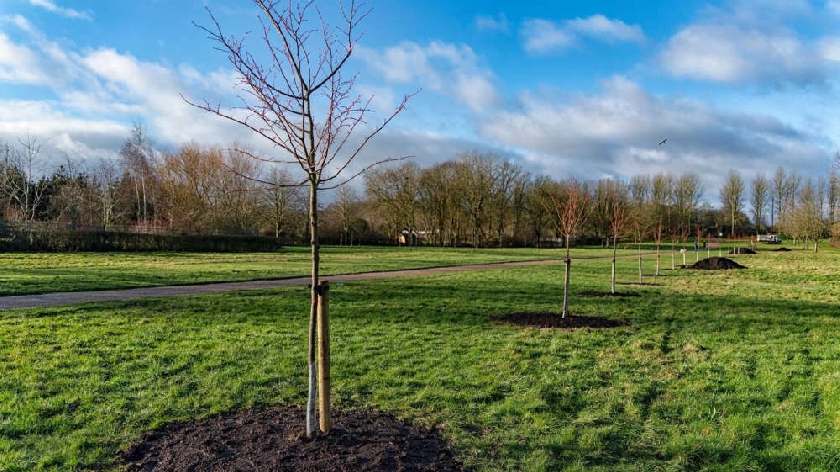 The 'Remembrance Walk' at Newlands has started to take shape as the trees are growing and wildflowers are blooming.
The stretch of walkway, between Campbell Park and Willen Lake, will become a space for community members to reflect and remember their loved ones.
An avenue of 48 Lime Trees was planted earlier this year, alongside the creation of a picturesque wildflower meadow.
The wildflowers have since started to appear which will also work to support biodiversity in the area.
Looking lovely today – the wildflowers at @theparkstrust Newlands Remembrance Walk with lots of bees and other flying critters dropping by.
More pics on insta: https://t.co/MKVZrHnyTu@scenesfromMK pic.twitter.com/MM938AIj9P

— Milton-Keynesia Magazine (@KeynesiaMilton) August 15, 2021
Ella Magwood, Principal Landscape Architect of PRC Architecture and Planning, volunteered to help create the landscape layout and visuals for the scheme.
She said: "PRC Architecture and Planning, having been based in Milton Keynes for many years, wanted to be involved in the local community. As a Landscape Architect, volunteering for The Parks Trust has enabled me to use my knowledge and experience much more widely within Milton Keynes than would have been possible otherwise.
"It has been rewarding to give back to Milton Keynes and know that the Newlands Remembrance Walk project will help to build lasting memories for people for years to come."
Memorial benches will be available with an engraved plaque. Enquiries for these can be emailed to ops.support@theparkstrust.com.