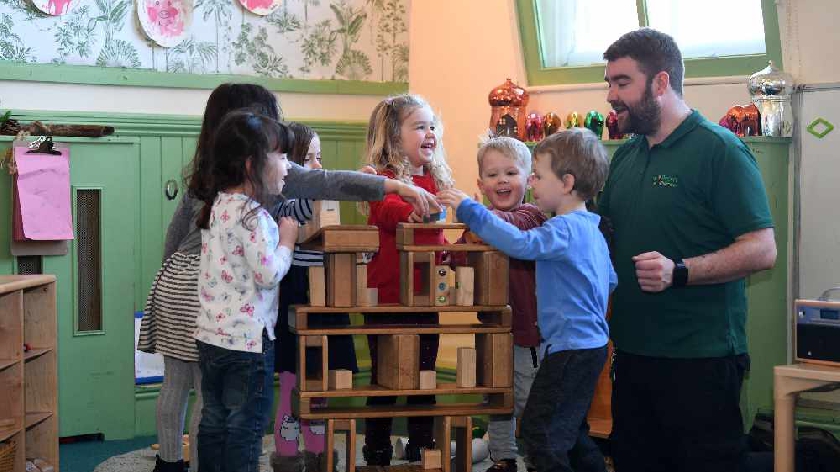 Acorn Early Years Foundation has been named by parents as one of the Top 20 nursery groups in the UK. It has seven nurseries in Milton Keynes with the other four in Northamptonshire.
The top twenty nursery groups received an award from the leading day nurseries review site, daynurseries.co.uk, with the award based on the nursery group's reviews from the children's families and carers. Parents rated the group on overall standard, facilities and outside space, learning, resources and equipment and ICT, care, activities, staff, food and nutrition, management, cleanliness, safeguarding as well as value for money.
Amanda Hopkins, reviews manager of daynurseries.co.uk, says, "The vision and ethos of a nursery group can have a huge effect on children, giving them a love for learning and discovery that will sustain them throughout their lives.
"Acorn Early Years Foundation has shown that its nurseries are helping to shape and boost children's development. We would like to congratulate it on being a top nursery group, as rated by parents! We feel it is a real achievement to be recognised for being in the Top 20 nursery groups by children's families and carers."
Zoe Raven, chief executive of Acorn Early Years Foundation, says, "We would like to thank all our parents who took the time to send a recommendation to daynurseries.co.uk, it's wonderful to read all of the lovely comments.
"It's a fantastic achievement and a great reflection on our dedicated colleagues who continually go the extra mile to ensure that we deliver outstanding childcare by always putting children first."
The daynurseries.co.uk awards are sponsored by Bamboo Childcare, early years specialists in recruitment, training, consultancy and networking event.
Eleanor Patel, its director says, "Bamboo Childcare, as a specialist recruiter, have always strived to be a market leader in terms of their understanding of the nursery sector. We believe we have achieved this status through our early years networking events, training division, working partnerships with our clients and our relationships with recognised publications within the sector.
"daynurseries.co.uk is an extremely valued resource for parents, carers, employees, employers and from our perspective, candidates, due to the detailed information given on every nursery as well as the genuine reviews.
"Every candidate we represent for a role is provided with the specific nursery link on daynurseries.co.uk prior to their interview; consequently, we made the excellent decision to sponsor daynurseries.co.uk #Top20DayNurseries2019."
See Acorn Early Years Foundation reviews here.