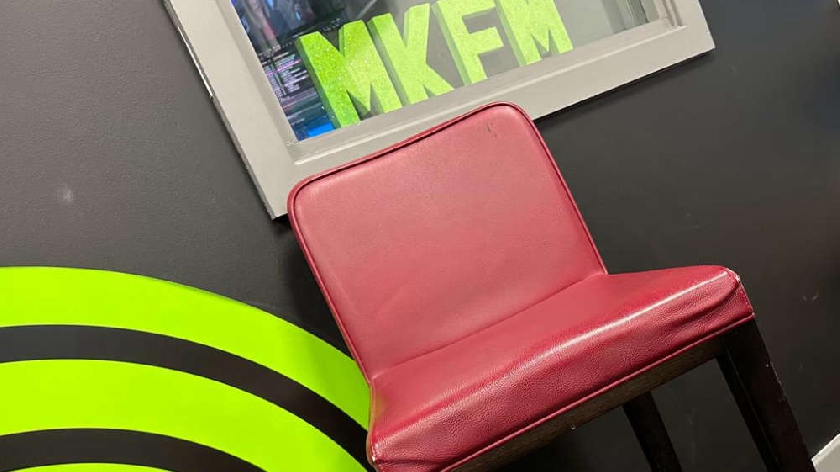 Image credit: MKFM / An empty chair waiting for Iain Stewart MP
MKFM invited the MP for Milton Keynes South and the Labour Parliamentary Candidate in for a live debate following the news that the city was unsuccessful in its bid for university funding.
MKFM has invited MP for Milton Keynes South Iain Stewart and Labour candidate Emily Darlington to the studio for a live debate following recent disagreements on funding.
Last month, it was reported that Milton Keynes has lost out on a multi-million-pound bid to create a new university for the city.
In 2022, a bid was submitted Milton Keynes City Council and Cranfield University had joined forces to Government's Levelling-up Fund to provide a home for MK:U, a new university focussed on high-tech skills.
Despite support from the City Council, local MPs and other regional partners, the bid did not receive any cash.
Following the news, Labour councillors raised the question as to why the city failed to secure the bid, with the Labour Leader of Milton Keynes City Council, Cllr Peter Marland, stating that 'Milton Keynes seems to suffer repeatedly', the council leader also stated that he felt Milton Keynes 'did not seem to have MPs capable of making our case in Westminster.'
Iain Stewart, MP for Milton Keynes South, responded that the reason for the bids lack of success was due to the 'quality of the Labour-ran Council's bid', he also added that it was 'not at the level of bids that other councils across the UK submitted'.
Emily Darlington, MK City Council Cabinet Member and Labour Parliamentary Candidate for Milton Keynes South, took to social media to call out the Conservative MP. She said: "Iain Stewart is caught out being dishonest and failing our city once again, I'm asking, what has he delivered for Milton Keynes South?"
MKFM invited both parties in for a live debate to discuss the topic on-air.
Iain Stewart MP responded to MKFM stating that he would 'let his record of lobbying for investment in Milton Keynes speak for itself,' rejecting the chance to discuss the unsuccessful funding bid.
MKFM has been told he will be focussing on work in Parliament and in the constituency instead of 'indulging in the political games his opponents seek to play'.
Emily Darlington responded by telling MKFM: "After 13 years as MP for MK south, Iain Stewart is running scared of defending his record with the public. I think this speaks volumes.
"The people of MK deserve better from their MP. Should he change his mind, I would be happy to debate him on MKFM anytime."
Not to copy a national news provider but MKFM will replace Iain Stewart with a lettuce if the invitation remains declined.