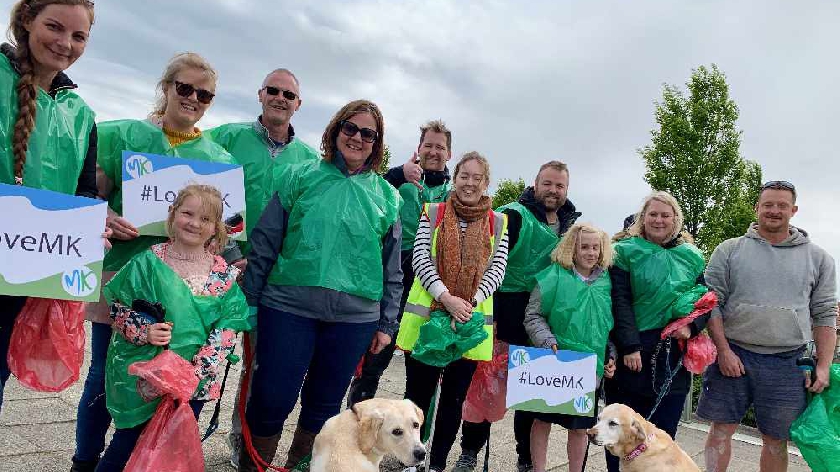 As part of the popular Love MK Day, an 80 strong group of local volunteers including staff from the McDonald's restaurants across MK recently embarked on litter picks in the local area.
The litter picks took place in Wolverton, Central Milton Keynes and Broughton, with the group collecting a mammoth 100 bags of rubbish and recycling across the day of litter picking.
Alongside McDonald's, the event was supported by local businesses and charities such as Boxx Comms, My Milton Keynes, SEMLEP, MK Council, The Bus Shelter MK and the MK Job Show, as well as Vodafone UK and Gigabit UK. Local McDonald's franchisee Ken Tomkins is also organising a 24-hour litter pick on the 24th July, which is geared up to be one of the most exciting litter pick events of the year in Milton Keynes.
Local McDonald's franchisee Ken Tomkins said: "I am so pleased to see the number of people who have given up their time to support Love MK Day, and I want to thank my staff who gave up their time to support the day. We are proud to be a part of this community and want to make sure that it remains a clean and tidy place to live."
"At McDonald's we have been collecting litter in our communities for more than 35 years, and I'm proud of our litter fighting heritage. The team's efforts were greatly appreciated, and we look forward to our next big litter pick in July."
McDonald's will be carrying out community litter picks throughout the summer months as part of its new Keep Up the Clean Up initiative. On top of this, every McDonald's restaurant carries out daily litter patrols all year round to collect all litter that has been discarded, regardless of its origin. Crew members across the UK cover a total of 3,000 miles each week on litter patrols, which equates to 150,000 miles a year and the distance of five marathons each year per restaurant.