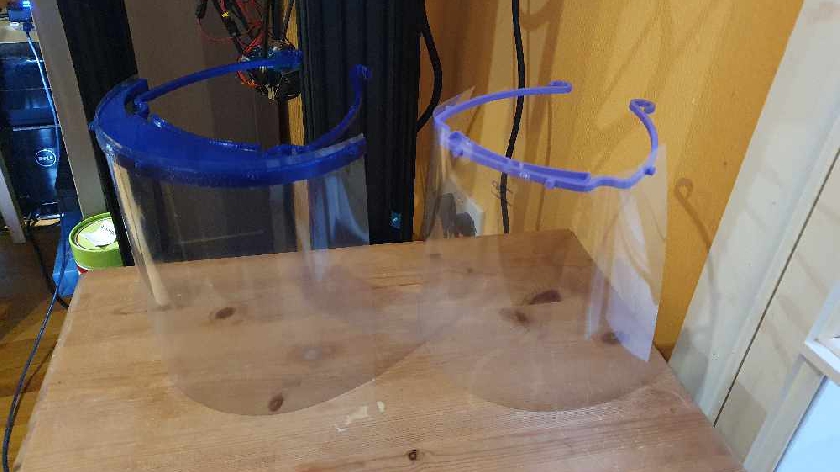 People with access to 3D printers are beginning to produce face shields for frontline workers during the coronavirus pandemic.
Personal Protective Equipment (PPE) is now getting scarce due to extreme demand, meaning that local healthcare services are finding themselves struggling to protect their frontline staff.
As a result, people with access to 3D printers, both students and hobbyists alike, are beginning to produce face shields to donate to those that need them most.
Michael Bird started producing them on Saturday (28/3) and managed to make 15 on the first day. Initially, it took around three hours to produce just one shield, yet with access to a new file, it means he can now produce one mask per hour.
His printers have been running non-stop since the weekend, with Michael saying he has had requests from Milton Keynes University Hospital, Northampton General Hospital, as well as maternity wards and care homes. He added: "With the lack of PPE available to frontline workers, I am making the use of multiple 3D printers to get them some protection.
"We need to care for one another and helping those out there any way we can. I am glad I have found that there is something I can indeed do to help!"
Another local making the most of his 3D printer is the 15-year-old son of a Milton Keynes-based GP. Rudra Nakade has also been using his own printer to make DIY visors and is providing them to various GPs in the area.
Just like Michael, Rudra can only make one face shield per hour, but he is wanting to do more. Rudra, alongside his parent Dr Manisha Nakade, are calling out to anyone in the area who has a 3D printer and is asking that they put the printers to good use.
"We are printing this for free but need to escalate printing to help protect key workers," they added. "We want to call out to businesses, universities or anyone out there who has a 3D printer at home to help us produce these ASAP.
"We appreciate any help during this difficult time. The design is already there (open source), so it will just be a matter of printing it."
If you want to help produce face shields, you can access the 3D printing file by clicking here. Michael has noted that the only other addition you will need is some 250 micron binding covers and a hole punch with an A6 measurement on it. The extra pieces needed have been collated in an Amazon Wish List that you can view here.
Alternatively, if you only wish to make part of the visor and not buy extra pieces, you can send the rest of the visor to Michael to finish. Get in touch with Michael via email or Facebook.
(Please note that this is Michael's personal wish list. If you purchase something from this wish list, it will go directly to Michael, so if you wish to purchase for yourself please ensure that you are no longer on the wish list.)