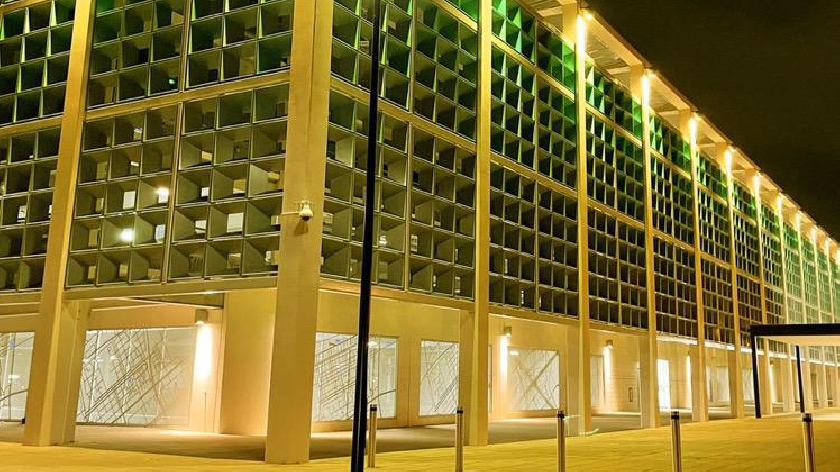 Image: @CentreMK Twitter
As we reach 8pm, registered charity Marie Curie is asking the nation to shine a light to reflect on the past year.
As today (23/3) marks the one year anniversary of the first lockdown, registered charity Marie Curie is calling upon the nation to look back and reflect on all those lives tragically cut short by the coronavirus.
Marie Curie is asking people to stand outside at 8pm tonight with a light – a candle, a torch, even your phone - to remember someone who's died and show your support to people going through a bereavement. Alternatively you can shine a light in your window for others to see.
Whilst the nation shines a light, iconic landmarks will be joining in too.
The Parks Trust took to Twitter to say: "Today marks the anniversary of the first UK lockdown and we're joining Marie Curie to take a minute to reflect and a moment to connect as part of this National #DayOfReflection.
"Tonight, we will join other landmarks across the country and light up the Beacon in Campbell Park."
Centre MK have also taken to Twitter to say: "At 8pm we will be joining the one minute's silence for National Day of Reflection, and lighting up the night with our car park shining bright yellow to remember those who have lost loved ones throughout this time. #NationalDayOfReflection."
The Willen Lake pagoda, officially called the Nipponzan Myohoji Temple will also be joining in and lighting up the night.
The Monks and their Head Nun will be praying and chanting with their drums during the event too.
Marie Curie describes their vision behind the National Day of Reflection on their website by saying: "Since the first lockdown began in 2020, hundreds of thousands of people have died. Too many lives have been cut short and millions have been bereaved.
"Behind the statistics and whatever the cause, every death has been devastating for the people left behind.
"Join us on today(23/3), the first anniversary of the first UK lockdown, for a National Day of Reflection to reflect on our collective loss, support those who've been bereaved, and hope for a brighter future.
"There are still tough times ahead, as the death toll continues to rise. This annual day will give us all time to pause and think about this unprecedented loss we're facing, and support each other through grief in the years to come."
If you're struggling with grief or need support, you can call Marie Curie's free Support Line on 0800 090 2309 to talk to one of their trained Support Line Officers about practical and emotional concerns or get ongoing support from a bereavement volunteer.