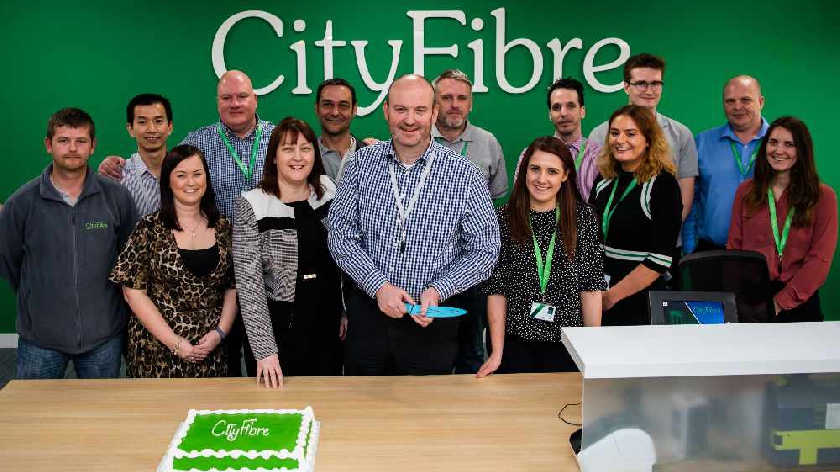 CityFibre puts gigabit-speed connectivity within reach of thousands of MK homes.
Over 20,000 homes across Milton Keynes are now able to access full fibre broadband – one year on from the start of the city-wide expansion of the digital network.
As part of CityFibre's 'fibre to the premises' project, the network has doubled to over 350km since March 2018. Through a strategic partnership with Vodafone, CityFibre has built in Bancroft, Blue Bridge, Bradville, Great Linford, Willen, Bletchley and Fenny Stratford, and will be accelerating across the city to build to almost every home and business.
CityFibre has made the build possible through a private investment of more than £40m. In addition to building the full fibre network – which is expected to complete by the end of 2020 – CityFibre has opened a new state-of-the-art office in Milton Keynes and intends to bring its Engineering Centre of Excellence to the city.
Full fibre broadband will bring a range of benefits to Milton Keynes – from greater innovation and productivity within businesses worth £62m according to Regeneris, to unlocking the use of smart tech within households, and increasing the value of local homes by £119m. It will underpin the city's economic growth, supporting a range of new business ventures due to launch in the next few years including three new hotels, apartments and the Institute of Technology, reinforcing the city's ambitious expansion plans.
Jean Gowin, CityFibre's City Development Manager for Milton Keynes, said: "Milton Keynes is a growing city and full fibre is going to play a vital role in underpinning that expansion. We're so proud of what has been achieved over the past year and it is fantastic to see so many homes within reach of full fibre. 2019 will be a huge year for the city and I cannot wait to see the difference made by improved digital connectivity."
Pete Marland, leader of MK Council, said: "Full fibre is going to play a huge role in Milton Keynes, both now and for generations to come. It will give our businesses the digital firepower they need to compete on a global stage, while ensuring our households and local services can reap the benefits of gigabit-capable broadband and the innovations it can support. The council has been working closely with CityFibre on this project and it is fantastic to see it gathering momentum and reaching so many communities at such an impressive pace."
To keep up to date with the Gigabit City network extension in Milton Keynes, visit: www.cityfibre.com/milton-keynes or follow @GigabitMK.
Residential internet services are available via Vodafone, register your interest in Gigafast broadband: www.vodafone.co.uk/gigafast