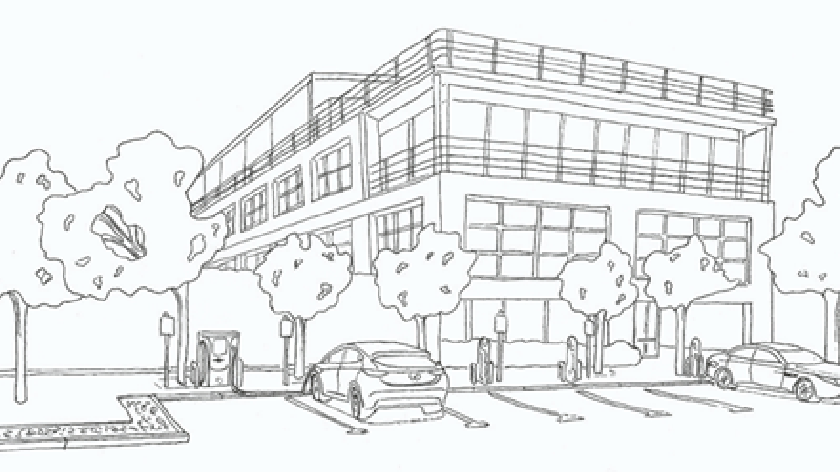 The hub at Saxon Court is one of two new planned hubs and is part of the Milton Keynes Go Ultra Low City Scheme (GULCS), created using funding from the Office for Zero Emission Vehicles (OZEV). 
A second hub located in Stony Stratford will open at a later date.
The charging hub is designed for electric vehicle owners and businesses who don't have available off street charging.
The hub also provides three new 50kW rapid chargers, each with its own bay where users can charge at rapid speeds.
Next year wireless charging will also be added.
The scheme also set up the Electric Vehicle Experience Centre in Centre:MK.
The Saxon Gate Community Hub will also host an electric vehicle car club operated by Enterprise Car Club with five new Nissan Leafs based at the hub.
Members can see the live state of charge and mileage range on every Enterprise Car Club electric vehicle when they book on the website.
Users who sign up to become a member of Enterprise Car Club in Milton Keynes will also have access to more than 1,400 vehicles located in 180 towns, cities and communities across the UK.
The hubs are being set up for MK Council by an eFIS led consortium which includes BP Pulse, Enterprise Car Club, University of Warwick and Arup.
Cabinet Member for Climate Action and Sustainability, Cllr Jennifer Wilson-Marklew said: "This is yet another fantastic project which will make life easier for those people with electric vehicles and those thinking about getting one.
"We're serious about tackling climate issues in MK and will continue investing in projects like these to make a real difference."
Dan Gursel, Managing Director of Enterprise Car Club, said: "We are delighted to be part of the first Milton Keynes Community Charging Hub.
"The hub means users can rest assured that they can recharge vehicles quickly when they need to and be confident driving an electric vehicle."