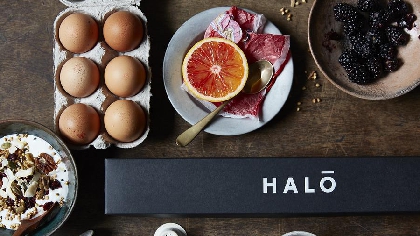 A Milton Keynes business which specialises in eco-friendly coffee capsules has launched an equity fundraising campaign to raise £1.6m to allow it to expand globally.
Halo launched this February and, despite zero media spend, garnered global media coverage and conversation, catapulting the brand into the coffee limelight. Halo is now seeking to raise £1.6m to aggressively grow the business in the UK and globally. It is fundraising through Growthdeck, the private investor platform which, since launch in early 2016, has raised £7.3m for a range of growth companies.
Halo has designed a world leading, fully compostable coffee capsule which biodegrades in just 90 days and can be thrown in the home compost bin. It's solving a real-world problem as currently up to 39,000 aluminium and plastic capsules go to landfill every minute globally. That equates to 20 billion capsules containing aluminium or plastic being produced every year – enough to circle the earth 14 times over.
The capsules are filled with the finest, rarest and most desirable fresh coffees roasted and ground to perfection. Compatible with Home Nespresso® machines, Halo is giving people the ultimate home coffee experience without compromising on taste, quality, convenience or planet.
The premium quality Halo product range retails from £1 to £10 per capsule – the top end being for the rare Kopi Luwak from Indonesia, available in capsule format for the very first time. Halo has also developed and launched Halo Pro, a larger compostable capsule and handle for professional espresso machines, a break-through for the lucrative hospitality industry.
Founders Richard Hardwick and David Foster have extensive experience of the premium coffee industry, sitting on the British Coffee Association Sustainability Committee and Judging the UK Barista Championship. Nils Leonard, formerly Chairman of the leading advertising agency Grey London, part of WPP and voted 'The Most Influential Person in Advertising in the World' by Business Insider magazine, is a marketing expert. The team also includes a former Director of Nespresso and former Operations Manager of the 5th largest UK coffee company.
Halo has appointed a wealth of top-flight experience to its Board of Directors, including Tim Jones, former CEO of Coller Capital. Tim Jones has personally invested in the business alongside Mike Dawson, FD of Elton John's Rocket Entertainment Group.
Halo is targeting international sales of £30m within 3-5 years. The £1.6m Growthdeck fundraise offers investors the prospect of a 9x money return, based on a trade sale in 2021. Halo has already shipped to 28 countries and received excellent feedback from customers, 91% of whom would recommend to a friend.
At the prestigious Clean Equity Monaco conference Halo was awarded "Runner Up" in 'Best New Sustainable Technology on the Planet' and was voted 2nd out of 800 startups selected by Natwest employees as the best new UK business.
Richard Hardwick, Halo Coffee founder, said: "We're offering the market a product that doesn't currently exist; the best coffees in the world, in a way that's best for the world; a fully compostable coffee capsule filled with the finest, rarest and most desirable coffees. We are now seeking to raise funds to be able to meet the current market demand and to fulfil growing global interest."
Gary Robins, Head of Investment at Growthdeck, adds: "The coffee capsule market is worth nearly £200m in the UK alone, with the global market worth over £10bn. Recent figures show capsule sales will soon overtake standard roast and ground coffee after an increase of 29.5 per cent over the last 12 months.
Halo is a very exciting entrant to this market – people are increasingly hearing about the horrors of capsules in landfill… It's a problem that has long needed a solution.
We are delighted to be backing an excellent management team which is truly steeped in the coffee industry. We expect the funding offer to attract strong interest from investors."