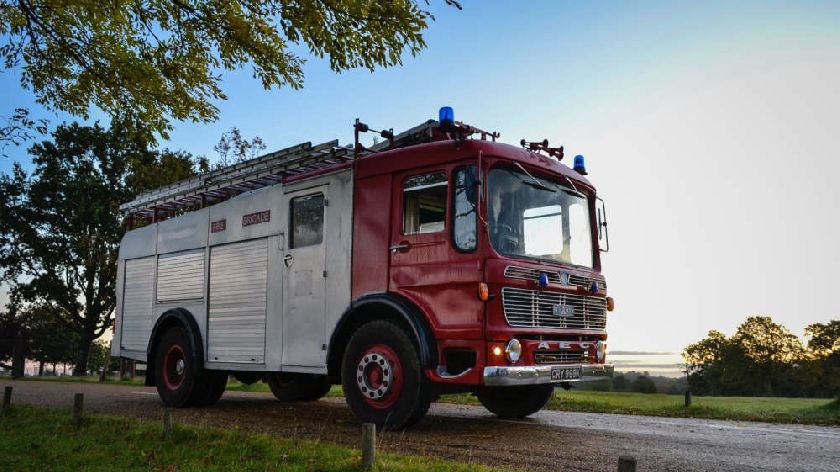 The Champagne Fire Truck, or 'Beaujolais Brigade' as it has been aptly renamed for the occasion, is set to depart English shores early on Monday 15th November.
The Champagne Fire Truck came about after Milton Keynes-based Development Chef, Richard Reynolds purchased a 1964 Dennis fire engine.
The five day extravaganza will see them navigating through some of the most renowned grape growing, wine producing regions on French soil, in a quest to be the first team to repatriate the first wines of this season's harvest.
The Beaujolais Run is a world famous event, combining a love of motoring, the opportunity to commemorate historic events and to enjoy some 'money can't buy' experiences along the way.
Far from being all about the fun and frolics, The Beaujolais Run 2021 is raising funds for a very worthwhile cause, with each participating team pledging to raise £1,250 for The Royal Air Force Benevolent Fund.
Richard Reynolds, Director of Champagne Fire Truck and Team Leader on The Run said; "We still can't believe our application was accepted! While it's sure to be quite an adventure, we're confident it's going to be quite challenging at times – given it's age, the fire truck isn't the quietest to drive and, with no heating in the cab, nor is it the warmest. Thermals and earplugs are packed in anticipation!"
He goes on to say; "The RAF Benevolent Fund is such a worthwhile cause, we couldn't turn down the opportunity to support them in such a unique way."
Members of the public can follow the team's story on their Just Giving page here or on their social media channels.