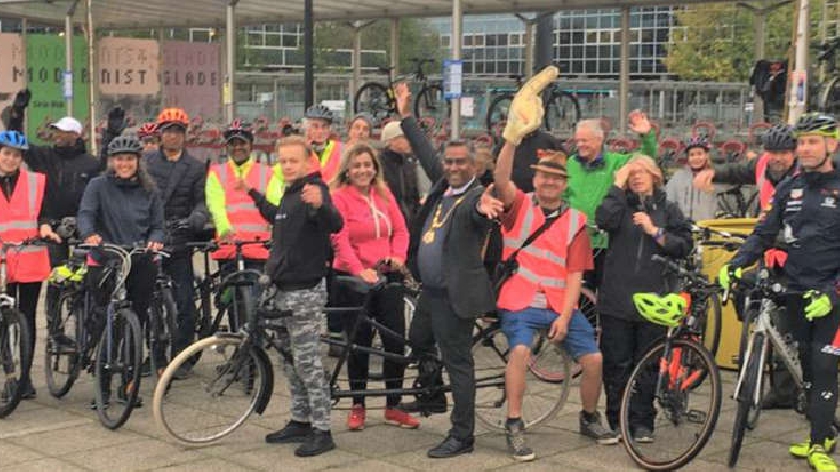 Next Thursday 14th July at 6pm, Milton Keynes cyclists will unite for a short ride through Central Milton Keynes.
The cyclists are set to leave The Old Bus Station and reach the Light Pyramid in Campbell Park 15 minutes later, led by Deputy-Mayor Mick Legg and other city councillors.
From 4pm, teenagers will compete for cash prizes in a Wheelie Delicious Donut challenge and a Bunny Hop challenge. There will also be a Vintage Cycle Show, breakdancing and free food provided by Namji's Restaurant in Xscape.
Then, at 5:30pm, there will be a presentation of the Mayor's Cycling Awards for MK businesses and schools which have achieved the highest rates of cycling to work and school in 2021/22.
Award winners will include primary school pupils who have recently competed in MK's first ever Bikeability Olympics.
Nick Braithwaite, Head of Sustainability at The Open University, one of the award winners, says: "Over the years we've worked hard to encourage staff to cycle to work, and have around 400 cycle-parking spaces in well-lit secure facilities, in several locations across campus, close to where colleagues work. It's great to be recognised along with other MK businesses for promoting cycling as a sustainable and healthy commuter option."
Paula Lawson, Headteacher of The Radcliffe School, another award winner, says: "Getting involved in the Cycling Citizens competitions this year has helped us to have good conversations with students. We talk about it at staff briefings as well as with students while on gate duty. We're interested in how physical activity improves mental health. We want to do more to promote cycling and walking to students."
The City Status Celebration cycle ride will pass through CMK on Thursday 14th July 6-6.30pm, following the Mayor's Cycling Awards for 2021-22 at 5.30pm and cycle stunt contests from 4pm. Full details can be found here.
To further celebrate MK as a cycling city, 50 children aged 9-11 will show off their cycling skills in MK's first ever Bikeability Olympics competition. Events include an Obstacle Course, Relay Race, Slow Race and Road Ride testing Bikeability skills.
This will take place at Sports Central, MK9 1EN, on Thursday 7th July, 4-6pm. More details here.