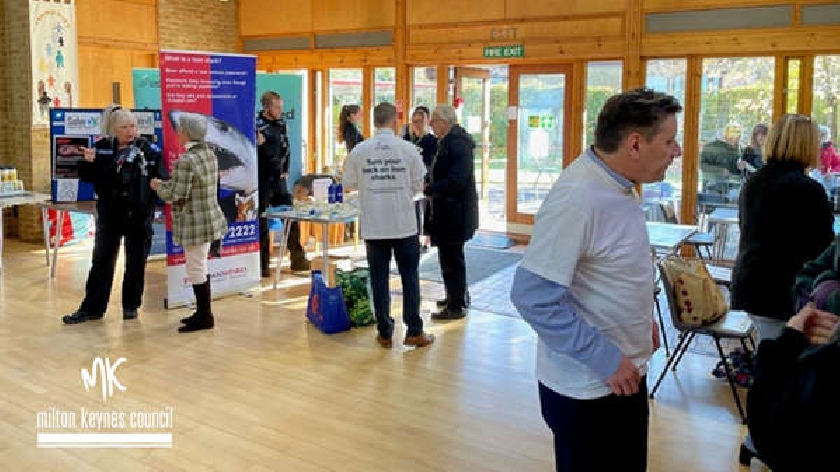 MK Council visited local Communities Larders to raise awareness of the dangers of loan sharks during a week of action.
In partnership with the Illegal Money Lending Team, Loan Smart Charity, Thames Valley Police and SOFEA Community Larders, MK Council visited four of community food larders to raise awareness and answer local peoples' questions.
The campaign aimed to encourage people to avoid using loan sharks and report the crime if they've been a victim.
Cllr Lauren Townsend, MK Council Cabinet Member with responsibility for Community Safety said: "Anyone can be a victim of a loan shark – your family, friends, neighbours and even you. It's not always easy to spot a loan shark as they come in all shapes and sizes and will at first appear friendly, just part of the community. It's when you can't pay that they will turn on you.
"Engagement activities in the heart of our local communities are vital to raise awareness, and I'd like to thank the council's Community Safety team and our local partners for their efforts."
Tony Quigley, Head of the Illegal Money Lending Team said: "We know that illegal money lenders operate in all communities and that they exploit the most vulnerable people. So we're looking to raise people's awareness of the problem and let them know where to go for help and support though this campaign.
"Anyone who is struggling with money or debt problems should contact the Citizens Advice for guidance and support. You can report loan sharks to us in confidence and we'll take action against them."
If you're considering taking out a loan, click here to see if your lender is authorised and don't fall prey to illegal money lending.