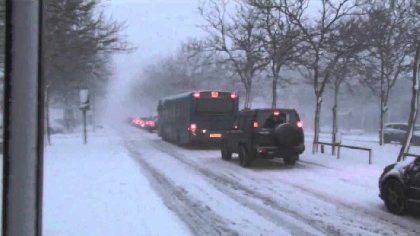 The council's community alarm team dealt with well over 1,000 calls, which saw carers, wardens, ambulance staff and doctors visit elderly and vulnerable people.
Fire and police services attended on at least one occasion.
The council's highways team were no less busy, with a constant presence of nearly a dozen gritting lorries, as well as other support vehicles, working round the clock to spread more than 350 tonnes of gritting salt across the borough's roads – some of it by hand!
Staff in the adult learning disability team made it possible for people to still enjoy the service, either with home support, or at local facilities.
Most of the staff from the council's re-ablement team, who help people return home from hospital so they can remain independent, made it into work despite the snow, working long hours.
Mental health support workers made a number of home visits despite the snow, and one newly recruited social worker ploughed through the snow all the way from home in Wellingborough to see clients in MK.
Carers still managed to make hundreds of home visits to elderly residents and more than 150 'meals on wheels' were delivered to people every day, despite the weather.
And the Kitchener Centre (Olney) transport went out to pick up a lady who was found fully dressed in bed - she even had her coat on – after her heating had broken down.
Staff took her straight to the centre and got in touch with her family to get the heating repaired. The lady had a hot meal at the centre and joined in the activities before going home.
Council Leader Pete Marland said, "When many of us were safely tucked up in bed, the gritting teams were out in the early hours of the morning spreading tons of salt to try and keep traffic moving in Milton Keynes.
"Our social care staff, mental health and many other teams also worked around the clock.
"I would like to say a huge thank you to those staff who stepped up to go the extra mile to help not only continue services, but to make a real difference – in some cases literally life saving – for citizens of Milton Keynes."