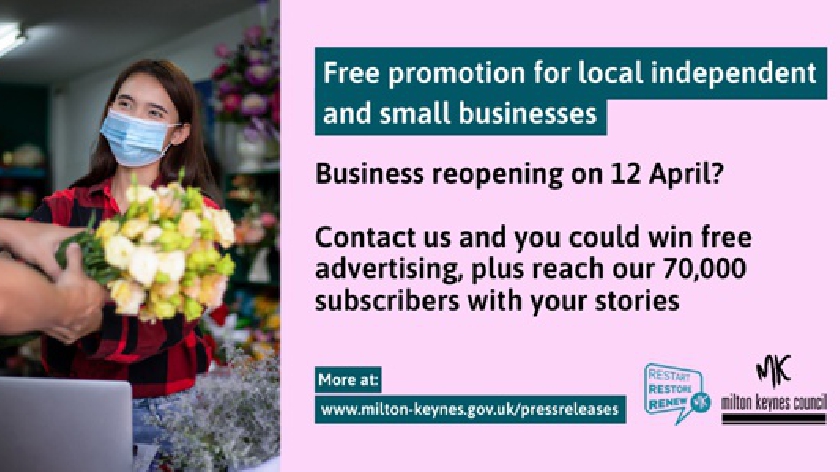 The Council is urging businesses to contact them ahead of the planned reopening of non-essential retail on 12 April to be part of their upcoming 'rediscover local' promotion.
The Council will be encouraging local people to support and shop with local retailers, businesses and makers around Milton Keynes, highlighting the personal touch, personality and character that independent businesses are so good at providing.
Four eligible businesses will also be offered the chance to run a free advert in the Council's magazine for local residents, which is usually delivered to homes around Milton Keynes in June and has a readership of around 70,000.
Shopping and spending locally has big implications for the success of an area. Experts calculate that for every pound spent with a local business, around 60p makes it back into the local economy. Spending locally helps other local firms flourish, creating more opportunities and jobs, and allowing other firms to prosper.
Cllr Carole Baume, MK Council Cabinet Member for Economy and Culture said: "We want to help spread the message that independent businesses have a genuine emotional connection to the communities they serve.
"As lockdown measures allow, it's well worth rediscovering what's on your doorstep, as you'll get a lot out of it, not just unique products and services but a friendly and COVID-19 secure welcome too."
Business owners can either send in a short written profile (no more than 200 words) and a photo, or a short video clip of 90 seconds or less to communications@milton-keynes.gov.uk along with business contact details. Businesses with existing social channels can simply share their own material and tag MK Council and Invest MK for a repost. The Council is aiming to share as many profiles as possible.
If you own a local business and want to apply for free promotion, please click here for more details.