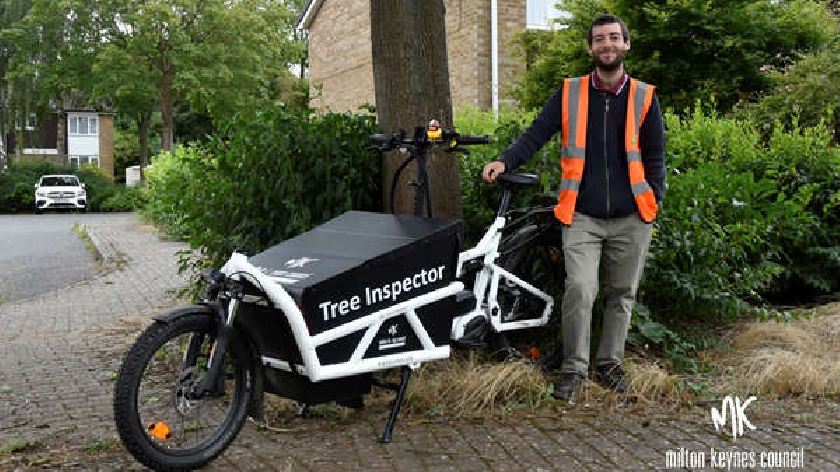 Tree inspectors at Milton Keynes Council have made the carbon-free switch to fully electric e-cargo bikes.
MK Council secured funding from the Department for Transport to purchase 21 e-cargo bikes last year and after donating three bikes to charity and setting 12 aside to lease to local businesses, the remaining fleet is being used by the council's tree inspectors to carry out their day-to-day duties.
The team has now completed almost 500 fully electric site visits and tree inspections throughout the city and is travelling around 25 miles during a typical day.
With a storage weight capacity of up to 150kg, the e-cargo bikes can safely and securely transport all the equipment inspectors need for an entire day including; secateurs, loppers and handsaw, all without the use a car or van.
Councillor Jenny Wilson-Marklew, Cabinet Member for Climate and Sustainability said: "Milton Keynes is known for embracing green technology and we're proud to be playing our part in showcasing cleaner transport alternatives to deliver council work.
"We want our city to be carbon neutral by 2030 and we'll only get their by making changes and innovations like this. We must all play our part and each small change can make a big collective difference."
Milton Keynes was one of the first places to receive government funding to purchase e-cargo bikes in 2020.
It's success has been recognised and the Department for Transport has recently announced details of a new £400K funding scheme for 2021.
MK Council has a fleet of 12 e-cargo bikes to lease to local businesses and is encouraging firms to apply.
All the details and an application form can be found on the council's new Get Around MK website.
READ MORE : Olney entrepreneur is first to rent e-cargo bike from Milton Keynes Council