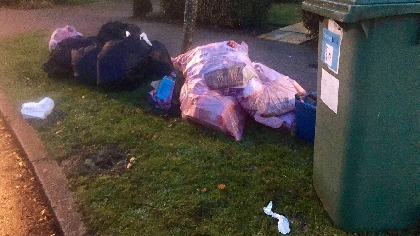 Conservatives to scrap recycling sack changes, protect weekly bin collections and launch a review to explore bins over bags.
MK Conservatives have pledged to ask residents if they want to move to waste and recycling bins from the current bag system in place.
The local Conservatives will make the pledge in their manifesto 'Time for Change' due to be released later this month.
The manifesto will put a focus on sorting out the current recycling mess caused by recent changes to the delivery of recycling sacks. Residents across MK have shown their dismay at an online ordering system that has seen delayed or none deliveries and households limited to only 20 sacks every six weeks.
Should the Conservatives take control from Labour at this May's local election, they will immediately reverse the changes to recycling sacks, making them readily available once again. They will then initiate a specific review into considering moving to bins rather than sacks in the longer term.
Leader of the MK Conservative Group Cllr Alex Walker says, "Labour have done their very best to destroy our recycling ambitions as a Council and annoy almost every resident in doing so. The recycling sack changes have been a disaster yet they remain stubborn, unable to admit it hasn't worked.
"I want to assure residents if the Conservatives wrestle control of the Council this year, the first thing we will do is make recycling sacks readily available once again.
"But I think it is time to go further and try to make MK a leader. I think moving to bins in the long term could be the answer so we will start a review and see what residents want to do.
"We will protect weekly bin collections and encourage you to recycle more not less. There is only one way to achieve that and that's is voting for change."
Peter Marland, leader of the Labour-led council, responded to these pledges, "For something that promises change, the MK Tories seem to already be a bit tired and out of ideas. I even think "Time for Change," is a repeat of their 2015 slogan.
"We've already started to roll out click and collect for recycling sacks, it's Labour that's has protected weekly bin collections for years, and next year we've already committed to reviewing how we collect waste as the contract with our existing supplier enters its final stages, including consulting on wheelie bins.
"These promises amount to nothing other than headlines. There is no substance and no vision from the MK Conservatives with their collection of expensive, ridiculous or stolen ideas."