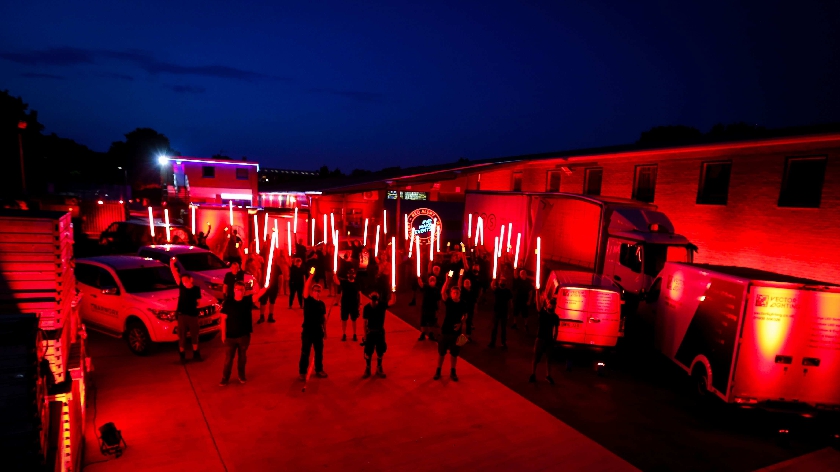 Event production companies in Milton Keynes staged an evening of 'creative action' last night to draw attention to the challenges coronavirus restrictions are placing on their business.
The action was hosted at the premises of IPS in Bletchley, a company that employs 45 people and has had almost no work since the end of February.
Staff volunteered to make the evening work, and were joined at a suitable social distance by other companies from the local area including Vector Lighting, White Events, Chameleon Event Production, LCH Production Services, Barworx, Milton Keynes Theatre, Imagine Presentations and other Freelance Event Industry Professionals; for a series of photos to highlight just how many people and their livelihoods are dependant on events.
The action is in combination with #WeMakeEvents: Red Alert, a wider national campaign led by a large and growing industry collective of trade bodies, businesses and freelancers affected by the shutdown all working together incorporating action in central London and other major cities across the UK.
The aim is to have financial support extended for the people and companies in this sector until they can return to work.
Without major immediate support from government, they warn that the "entire supply chain is at risk of collapse".
The campaign group say: "Live events around the world and across the entire landscape of major festivals, landmark theatres, to grassroots venues and business events have been devastated by COVID-19."
"The UK is regarded as a world leader in delivering complex events and we risk losing it forever."
"Red Alert is a campaign to raise public and media awareness in support of the live events sector which employs circa 1,000,000 highly skilled people in the UK, all of whom have had no work for the past four months with little likelihood of restarting until Spring 2021."
The sector includes a huge supply chain of companies ranging from event production, audio, lighting, video, logistics, planning, transportation and some of the world's leading technology manufacturers. ​