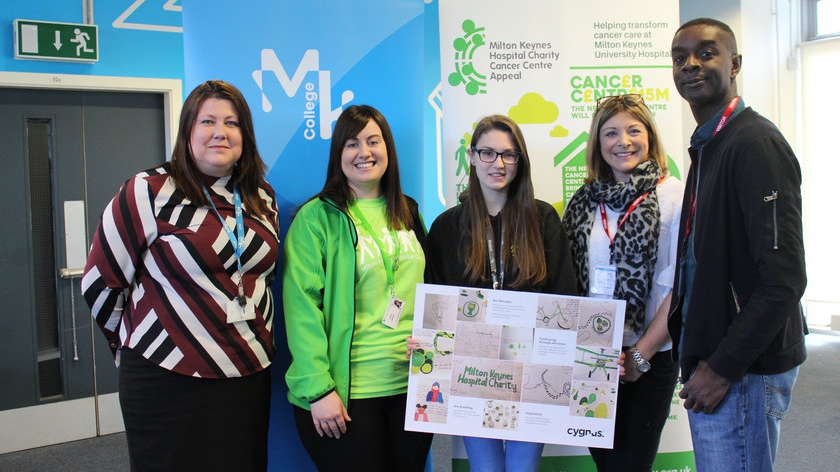 Image Credit: Milton Keynes College
Students at Milton Keynes College have been working on a creative project to help raise awareness of Milton Keynes Hospital Charity.
The students were set a brief by MK-based creative agency Cygnus to design a wall mural to showcase MK Hospital Charity, and to increase the charity's visibility to visitors of the hospital.
23 Graphic Design and Art and Design students recently submitted their designs and last week Cygnus and MK Hospital Charity announced the winner at MK College.
"We were so impressed with the level of all the entries. They showed strong attention to detail, told the story of the charity and reflected its personality", said Angela Carmody from Cygnus.
There could only be one winner, however, and it was Sasha Coggin's design that was selected.
Sasha will now work with the team at Cygnus to bring her design to life and to create a full-size display at the hospital, directly outside the charity's office.
Sasha has also earned herself a week's work experience at Cygnus where she will have the opportunity to discover what it's really like to work in a creative agency.
"Sasha's design was heavily researched. It answered the brief; incorporating the charity's existing brand identity, and really capturing the essence of the charity", said Angela.
"I feel really proud to have won the competition and I can't wait to see my design on display at Milton Keynes Hospital."
"It's been great getting to work on a real-life brief and I am looking forward to gaining even more experience at Cygnus in the summer", said Sasha.
"Sasha's design is amazing and we can't wait to see it installed at the hospital. Our mission is to make a real difference to the experience of patients, their families and staff of the hospital so it's really important that everyone knows we are there."
"With Sasha's design, no one will be able to miss us! It's fun, friendly, engaging and very importantly - green!"
"We'd like to extend a huge thank you to Cygnus for leading this project, and to all the amazing students at MK College for the time and effort they have put in", said Jennifer Howells, Senior Community and Events Fundraiser.
This is the third 'Horizons' live project that Cygnus has set for MK College students in conjunction with a Milton Keynes charity.
The programme is intended to provide experiences will that expose students to the design industry, and support them in their future careers.
"The students really engaged with the project and have benefited enormously from working with a creative agency on a live brief, for a real client."
"The experience has certainly seen them develop their skills in design, planning and research."
"We're extremely grateful to our partner Cygnus for making this opportunity available to the students, and we're very proud of our students for producing such fantastic designs in support of MK Hospital Charity", said Julie Newman, Employment Advisor at MK College.