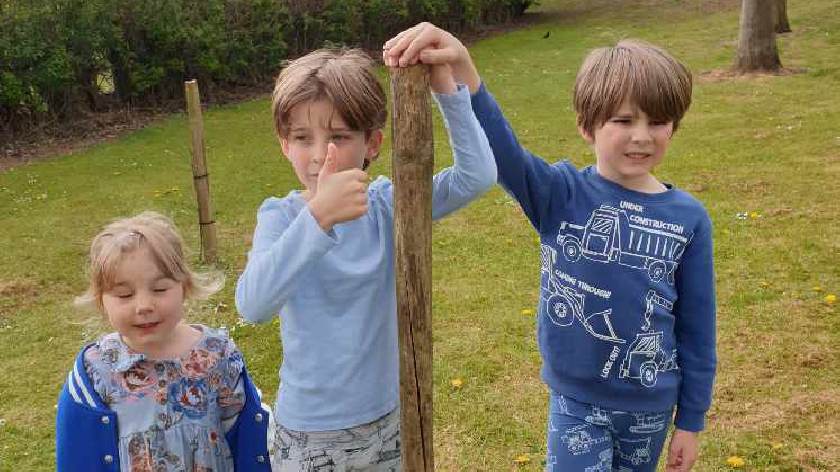 As part of a local donation programme from Community Trees Milton Keynes, 20 volunteer families planted 100 saplings across various parks and play areas in Newport Pagnell.
Giving some more detail about what the children and their families have managed to achieve, a spokesperson for Newport Pagnell Town Council said: "We recently had 20 volunteer families plant 100 Oaktree saplings at different locations around our parks and play areas.
"These saplings were kindly donated to the Council from Community Trees Milton Keynes.
"Every volunteer was given five saplings along with instructions to use the companion planting method. We do not expect all 5 to survive, unfortunately probably only one or two will do so.
"The surviving saplings then feed off the roots of their dying companions. Should more than one survive in a group we will then safely relocate to another area.
"Our ranger will be out and about shortly to secure these saplings by placing tree guards around them. The volunteers will kindly continue to water them over the summer months to ensure they have the best chance of survival."
It is hoped that these new oak trees will become home to hundreds of species of birds and inspects once they grow, as well as having the capacity to absorb up to a tonne of carbon dioxide.
Community Trees Milton Keynes are a community group set up with the aim of facilitating the planting of 1,000 trees a year for the next ten years throughout the Borough of Milton Keynes. They have recently partnered with the Parks Trust to enhance some select areas around the city.
For more information about the work they do for the local environment, can visit their official Facebook page by clicking here.
READ MORE - Thousands of trees to be planted in Milton Keynes-based park