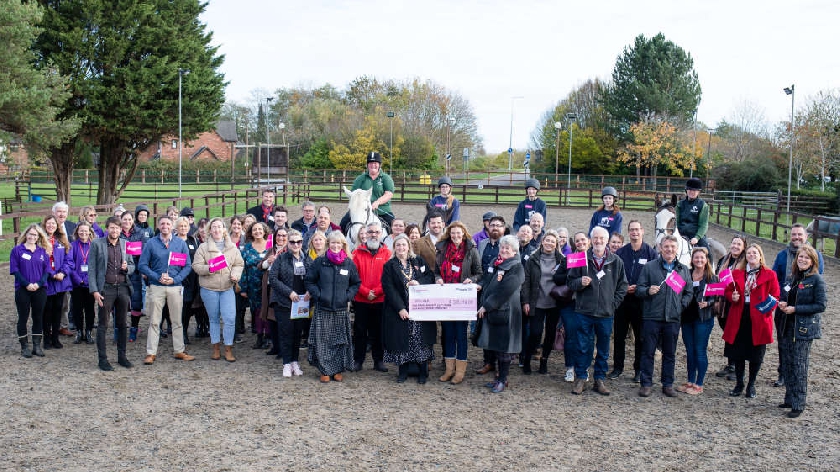 Ride High, a children's charity in Milton Keynes is celebrating having successfully secured a grant of over £385,000 from the National Lottery Community Fund.
The charity who uses horses and an associated educational programme to support vulnerable and disadvantaged children, will use the funding to increase the number of children it supports to over 300 each year, an increase of over 30%.
Ride High will receive the grant over a period of three years from the National Lottery Community Fund, which is the largest funder of community activity in the UK. The grant will also see the charity introduce additional wellbeing elements and optional counselling to their programme with YIS Milton Keynes.
They announced the good news at an event attended by MK Mayor Amanda Marlow and Deputy Lieutenant of Buckinghamshire Mrs Mary Tuckett, friends and supporters of Ride High and members of the Milton Keynes community, at their home at the Ride High Equestrian Centre on Wednesday.
Olivia Sugdon, Ride High CEO said "Ride High has been supporting vulnerable children within Milton Keynes for over 13 years. In that time, we've responded to the growing needs of our city and have provided a unique service that has made a profound difference to the lives of over 1,800 children in need. The demand for children's services however continues to rapidly increase, so our award from the National Lottery Community Fund couldn't have come at a more pertinent time. The funding will enable us to support hundreds more children through our programme; to instil confidence, pride, and to encourage positive mental health and wellbeing leading to happier outcomes".
"We are very proud of the role Ride High has in the Milton Keynes community and would like to thank people and business for their continued support. We're delighted that the importance of our work has been recognised by the National Lottery Community Fund and we're thankful to them and everyone who plays the National Lottery".
Cllr Amanda Marlow, Mayor of Milton Keynes said "I am so delighted that the National Lottery Community Fund have awarded Ride High this grant. The money will help so many children in Milton Keynes, by providing much needed therapies and giving them the support that they need.
As the mother of an autistic teenager, I have seen first-hand the positive and calming effect that horses have on an anxious person. By using horses as a therapy tool through spending time riding, grooming, and caring for the horses, all helps to give that person the confidence to face the world."