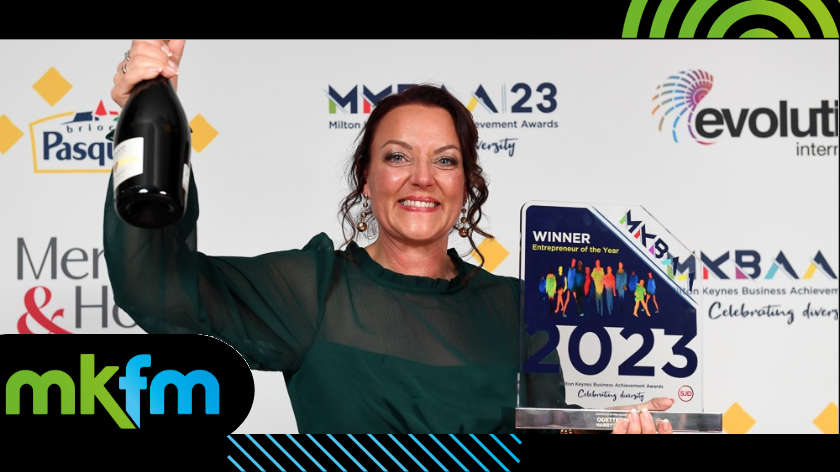 A Milton Keynes charity CEO was awarded 'Entrepreneur of the Year' at the Milton Keynes Business Achievement Awards earlier this month.
The prestigious Milton Keynes Business Achievements Awards saw over 600 guests pack out the ballroom to celebrate the achievements of local businesses.
This year's theme was 'Celebrating Diversity' and many of the night's winners demonstrated their commitment in this area.
Harry's Rainbow CEO, Odette, was delighted to be a finalist for Entrepreneur of the Year in the Milton Keynes Business Achievement Awards held on Thursday 23rd March, along with 4 other incredible entrepreneurs.
Odette said "I was keen to shine a light on the charity sector and in particular people like me who set up non-profits to change experiences for other people, for the better! In the past 12 years I have fought to raise the voices and awareness of our bereaved community, specifically children, and the needs for them to be able to access support as early as possible.
"To have got through 2 rounds of judging and reach the final felt incredible, but when I heard my name was called on the night as the winner, I was extremely overwhelmed."
"It was a wonderful evening from start to finish, the atmosphere was electric; full of people making a difference in our city of Milton Keynes. It was a very poignant moment that will not be forgotten."
MKBAA winners in full:
Business Impact in the Community
WINNER: Diversity Marketplace
Charity of the Year
WINNER: YMCA Milton Keynes
SPECIAL RECOGNITION: DREAMsai
Culture & Arts
WINNER: Camphill MK Communities
SPECIAL RECOGNITION: MKIAC
Customer Service
WINNER: George Davis Turf
Celebrating Diversity:
WINNER: Diversity Marketplace
SPECIAL RECOGNITION: MKDC
Design & Creativity
WINNER: Red Giraffe
Leisure & Entertainment
WINNER: Stadium MK
Entrepreneur of the Year
WINNER: Odette Mould, Harry's Rainbow
Innovation
WINNER: REAS | KonnekApp
Technology
WINNER: Clearview Intelligence
New Business
WINNER: Icubation Nation
Professional Services
WINNER: Howes Percival
Small and Medium Business
WINNER: Yellowyoyo
Micro Business:
WINNER: Marc Davies Bespoke Interiors
Business of the Year
WINNER: Diversity Marketplace
Lifetime Achievement Award
WINNER: Dr Julie Mills OBE