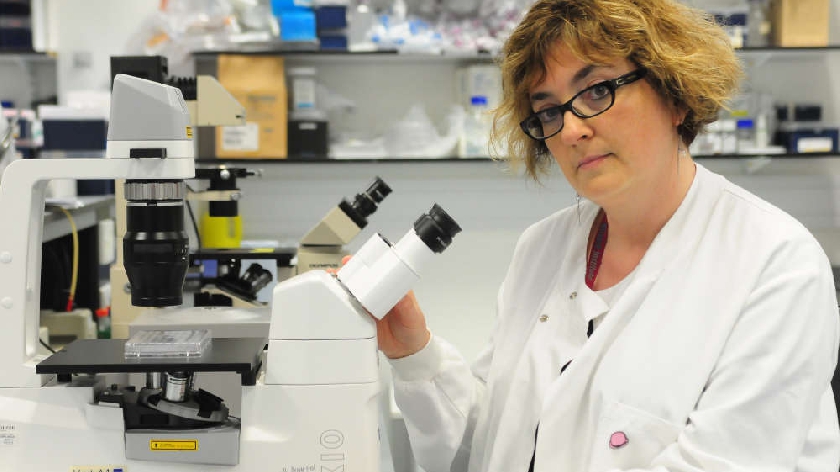 At the moment only 25% of patients with this type of brain tumour survive for more than one year and just 5% live for more than five years.
Brain Tumour Research is the only national charity in the UK singularly focused on finding a cure for brain tumours through campaigning for an increase in the national investment into research to £35 million per year, while fundraising to create a sustainable network of brain tumour research centres in the UK.
The work which Milton Keynes-based charity Brain Tumour Research has funded could pave the way for truly personalised treatment for patients diagnosed with glioblastoma multiforme (GBM).
A team at the Brain Tumour Research Centre of Excellence at Queen Mary University of London has established an entirely new experimental research pipeline which, in a trial involving ten patients, has revealed new insights into how GBM develops, identifying potential new targets for individualised treatments.
It could also help predict a patient's response to drugs currently in clinical use for other diseases which would be extremely valuable as the average survival time for this type of brain tumour is just 12 to 18 months.
Hugh Adams, spokesman for Brain Tumour Research which is based at Shenley Wood, said: "The complex nature of this particular tumour type means that the standard of care for these patients has not changed in a generation so this research brings much-needed hope for the future.
"One of the main challenges in developing effective treatments for GBM is that the tumour exhibits significant variation between patients and there can even be significant variation within a single patient's tumour.
"These variations can arise from change to the cell's genetic code – known as mutations – combined with changes to how specific genes are controlled.
"There is strong evidence that GBM cells develop from neural stem cells but previous studies have not been able to compare tumour cells and their putative cell of origin from the same person.
"Prof Marino and her team have now harnessed state-of-the-art stem cell technologies and next-generation DNA sequencing methods to compare diseased and healthy cells from the same patient.
"Their results have shown how this approach can reveal novel molecular events that appear to go awry when GBM develops, thereby identifying targets for potentially new treatments."
The results of the team's work have shown how this approach can reveal novel molecular targets for potentially new treatments.
The charity is calling for a national annual spend of £35 million in order to improve survival rates and patient outcomes in line with other cancers such as breast cancer and leukaemia and is also campaigning for greater repurposing of drugs.
You can find out more at www.braintumourresearch.org.