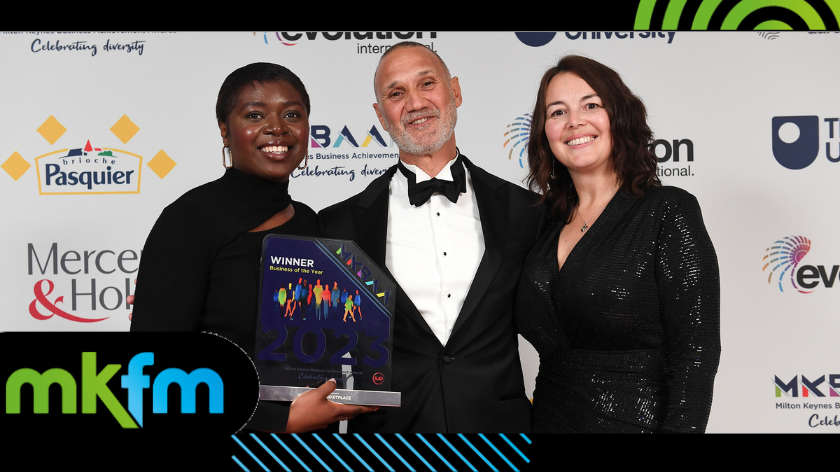 Image: Milton Keynes Business Achievement Awards
The Milton Keynes Business Achievement Awards took place returned to Stadium MK on Thursday 23rd March, celebrating achievements within the business community.
The prestigious Milton Keynes Business Achievements Awards saw over 600 guests pack out the ballroom to celebrate the achievements of local businesses.
This year's theme was 'Celebrating Diversity' and many of the night's winners demonstrated their commitment in this area.
Hosted by MKFM's Trevor and Ros, guests heard the 14 category winners, alongside their stories, announced on stage.
Chair of MKBAA organisers Milton Keynes Business Leaders Partnership, Nicholas Mann, said, "This year we saw a record number of entries into the awards, so that made our judging panel's decisions even harder. So many businesses have championed their own diversity and inclusion work, so it's fantastic to be able to celebrate that together, as a vibrant and thriving business community."
"On what was also a sell-out night, on behalf of the entire MKBAA team, I'd like to congratulate all of our winners, and to thank all entrants, judges, sponsors, speakers and guests, without whom the awards just couldn't take place."
MKBAA winners in full:
Business Impact in the Community
WINNER: Diversity Marketplace
Charity of the Year
WINNER: YMCA Milton Keynes
SPECIAL RECOGNITION: DREAMsai
Culture & Arts
WINNER: Camphill MK Communities
SPECIAL RECOGNITION: MKIAC
Customer Service
WINNER: George Davis Turf
Celebrating Diversity:
WINNER: Diversity Marketplace
SPECIAL RECOGNITION: MKDC
Design & Creativity
WINNER: Red Giraffe
Leisure & Entertainment
WINNER: Stadium MK
Entrepreneur of the Year
WINNER: Odette Mould, Harry's Rainbow
Innovation
WINNER: REAS | KonnekApp
Technology
WINNER: Clearview Intelligence
New Business
WINNER: Icubation Nation
Professional Services
WINNER: Howes Percival
Small and Medium Business
WINNER: Yellowyoyo
Micro Business:
WINNER: Marc Davies Bespoke Interiors
Business of the Year
WINNER: Diversity Marketplace
Lifetime Achievement Award
WINNER: Dr Julie Mills OBE
The headline sponsors for MKBAA 2023 are Milton Keynes Council, The Open University and Brioche Pasquier UK
We had an amazing time at last night's @MK_BAA awards and are so proud to be finalists in two categories Charity Of The Year & Business Impact In The Community.

Thank you to our hosts & supporters @Ringway_MK, @My_MiltonKeynes for a brilliant evening celebrating all things #MK pic.twitter.com/SKdpQLgEjy

— Safety Centre Charity (@HazardAlley) March 24, 2023
Thank you @MK_BAA and to Darren and Lia @mkfm for inviting us to the most sparkliest table, what a fabulous night! #thankyou #mk #lovemk #mkbaa pic.twitter.com/pFNfbTmoQO

— MK Food Bank (@mkfoodbank) March 24, 2023
MK Gateway was proud to sponsor @MK_BAA again this year & Steve Eccles, Director of @SociusDevUK was excited to be there to award @CamphillMK as winners of the Arts & Culture Award.

Congrats to all winners, finalists & the fantastic MK businesses who attended last night's awards pic.twitter.com/4UQ5YeyuZ0

— MK Gateway (@MK_Gateway) March 24, 2023
What a fantastic night at the #mkbaa2023 awards. Ringway were proud to sponsor the Charity of the Year category and with so many fantastic entries the judges gave a highly commended award to #Dreamsai with #YMCA winners! Well done to all involved #celebratingdiversity #lovemk pic.twitter.com/etOCbKCvXV

— Ringway MK (@Ringway_MK) March 24, 2023