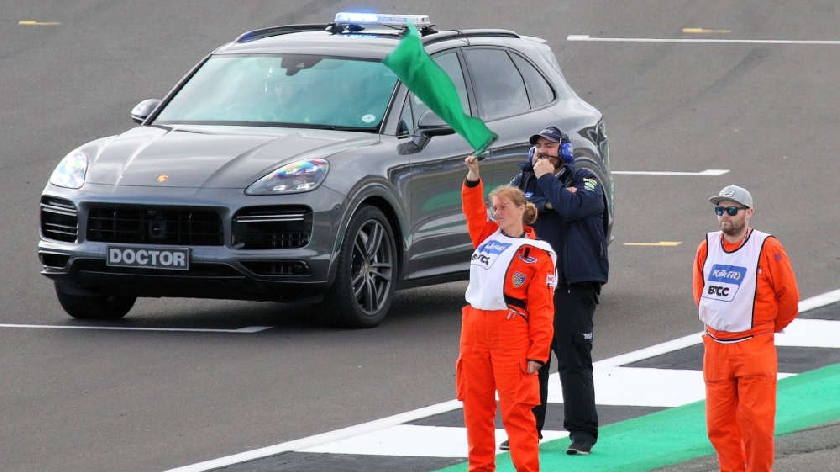 Helen marshalling
A local motorsport enthusiast will be competing in Formula Woman, a large-scale motorsport competition, this month.
Formula Woman was launched in 2004 and thousands of women entered to see if they had what it took to become a racing driver.
The competition is now returning for 2021 and Helen Bendall-Jones, who works at Network Rail in Milton Keynes, will be among the women competing.
She will be travelling to Anglesea on 20th September to see if she is the next female motor racing champion.
Helen is passionate about the sport and works as a Specialist Marshal with the British Motorsports Marshals Club of a weekend. Trackside she dresses in orange; keeping an eye on things in the pit lane, or on the starting grid putting race cars into position.
She hopes that her competitive streak will help her win: "My love of motorsport started from a young age; watching the Formula 1 with my dad as a little girl, I remember telling him that I would be the 1st female F1 world champion when I grew up. Well, that hasn't happened, but my competitive streak stayed with me: from not liking to be overtaken on the motorway, to getting towards the front of the queue to board a flight or enter a venue or event, I don't like being beaten & get a rush of joy at being ahead.
"So Formula Woman is my opportunity to burn some rubber, unleash that streak in full, and compete on the race track, to be present in next year's GT Cup."
The winners will receive a fully sponsored McLaren GT4 seat in the 2022 GT Cup Championship.