Heather Stevens, Feather & I
A local artist was left overwhelmed after residents eagerly responded to her social media call out for models.
Heather Stevens is a Milton Keynes-based artist who is currently exploring the world of nude artwork.
In a bid to get her work in recognised by a gallery, Heather took to Facebook asking residents to help her build up her portfolio.
Heather posted asking for local people to help her out by sending in photos of themselves, whether they be completely nude, wearing underwear or in a bikini. She wrote on Facebook: "I would also love a challenge and would love to try some couple ones if interested." Heather would then paint the models and let them keep their paintings free of charge.
Within 2 hours, Heather received around 40 confirmed volunteers. Heather told MKFM: "I definitely didn't expect the post to get the reaction it did. It was certainly overwhelming."
Painting has always been a part of the local artists life, Heather explained: "Painting has always been a part of my life, my grandfather is also an amazing artist, and I spent a lot of my childhood watching him create incredible pieces.
"I wish he'd had the opportunities I have had to make his skills known, as I know it was a dream of his. He would teach me different techniques and explain to me the various uses of each of his brushes.
"I never really took it up properly until lockdown, he was diagnosed with Cancer and I was furloughed so it kind of encouraged me to relive those memories of painting with him in his paint room and also became a good way to pass the time."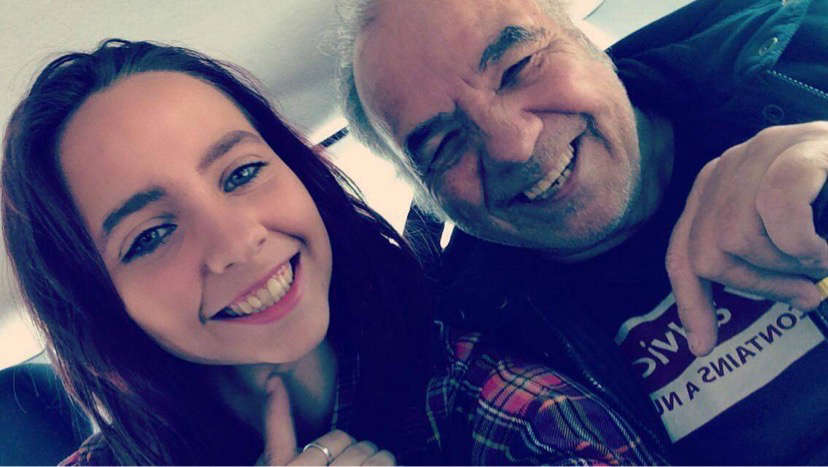 Heather created her Facebook page heathers acrylic paintings and began selling a few pieces and from there, she started researching different artists and types of artwork.
"I came across an artist called Sophie Tea and fell in love with the style of painting she did and decided to attempt to recreate her nude artwork, " she explained. " After a nearly a year of what started off as a hobby and the odd sale. I was lucky enough to have met my partner of today who really gave me the confidence and self belief in my art.
"One night he spent his evening talking me through business ideas and how to move me forward. Even encouraging me to contact Sophie Tea to get her advice and feedback.
"To my amazement, this world renowned artist took the time to not only reply, but also gave feedback and kind encouraging words.
"I then launched 'Feather & I' with the sole focus of abstract nudes and teddies."
Sadly, soon after the launch of Heather's new business, her grandfather was given three to six months to live.
"I was losing my grandfather and it broke me. I completely lost all drive. Last month my grandfather made me show him these new paintings and the way his face lit up when he saw them and how proud he was, it gave me back the spark I needed to start pushing my artwork out there again."
Heathers aim for 2022 is to be recognised in a gallery and to find her artistic direction, "I know it would make my grandfather so proud if I was. I just hope he is here to see it."
After seeing how much interaction she got from posting on Facebook groups, Heather is now offering the nude paintings for half price until 25th January. "As a thank you to everyone for their support I am offering any orders of the abstract nudes made between now and the 25th for half price."
You can contact Heather or find out more about her business here.