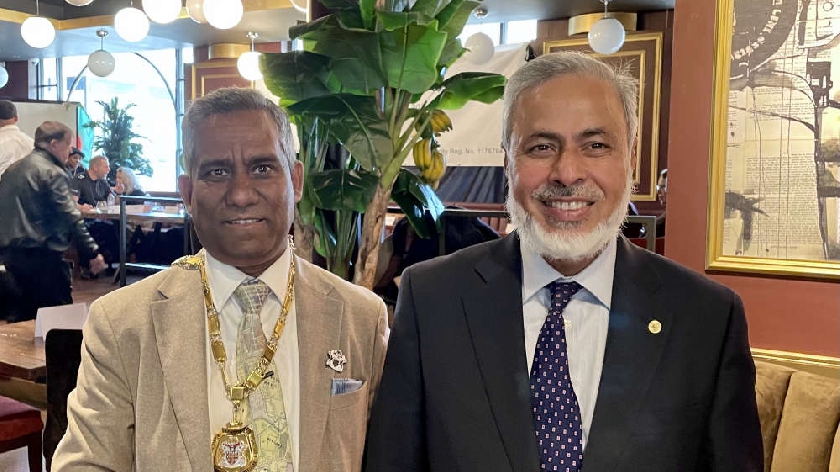 The Milton Keynes Bangladeshi Association (MKBA), celebrated 6 years worth of achievements with first ever awards ceremony.
The organisation, which was founded in 2015, has accomplished various programs over the years to attain and reach its goals and missions.
MKBA raised funds for the construction of a cancer unit at Milton Keynes Hospital to celebrate Independence Day in Bangladesh, arranged a Bangladeshi High Commission consular service Project within the community to assist people with consular services, holds various cultural events and executes sports events.
The organisation also provides food to the homeless and distributes relief to flood and natural disaster recovery victims in Bangladesh.
Following on from this, the MKBA hosted the first ever community award ceremony on 7th November.
Sponsored by Advanced Property Ltd, The Milton Keynes Community foundation, Bletchley and Fenny Town Council and MA leaflet and distribution, awards were presented in various sectors.
The ceremony allowed the organisation to recognise the outstanding talents and achievement in the community in the presence of the Mayor of Milton Keynes, Cllr Dilwar Khan who is the also the first British Bangladeshi Mayor of Milton Keynes.
Other guests included the High Sheriff of Buckinghamshire (George Anson), Gamiel Yafai ( Milton Keynes Diversity Marketplace) MK Community Foundation (Ian Revell and Kurshida Mirza), Thames Valley Police ( PS Collins Pickett) Mayor of Wolverton ( Cllr Anwar Hussain) Chief Exec office Mk Council ( Michael Bracy) MK Equality Council ( Navrita Atwal) Leighton and Linslade Mayor (Farzana Kharwala) Sue Quinn ( Mk Dons) and West Bletchley Council (irene.)
Outstanding awards were selected by a selection committee who went through 100's of nominees and was chaired by Peter Kara ex-high Sheriff of Milton Keynes.
Nominations came from all the following categories:
Student- GCSE
Student- A Level
Student- Undergraduate
Special -Arts & Culture
Student - Medicine
Special Education
Employment
Employment (consultant & doctors)
Business
Sports- Football
Sports - Cricket
Community & voluntary Service
Life Time Achievement
MKBA Recognition
A total 76 outstanding awards were presented to individuals who had worked hard and earned this award.