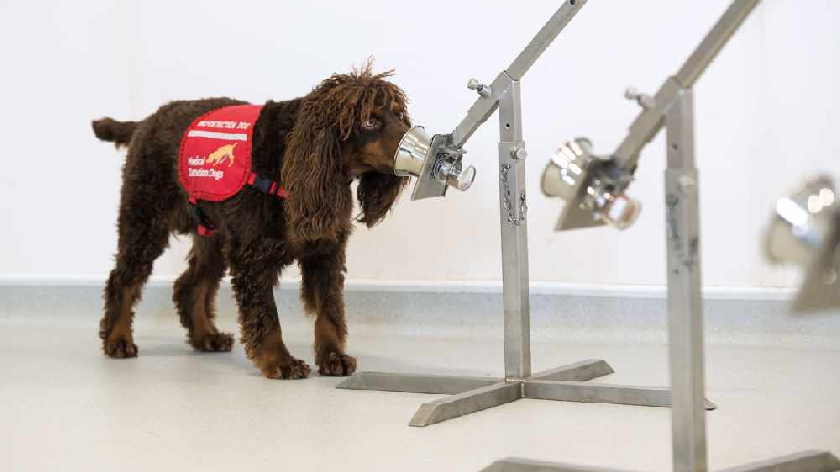 Local charity Medical Detection Dogs has received a donation of £1,000 from the Amazon fulfilment centre in Milton Keynes.
The charity trains dogs to detect the odour of human disease, with the aim of improving diagnosis and is at the forefront of the research into the fight against cancer.
Medical Detection Dogs is also currently investigating whether Bio Detection Dogs can be trained to detect COVID-19.
Bio Detection Dogs sniff samples to find the odour of cancer, malaria, Parkinson's and other diseases in its Great Horwood training room.
Medical Alert Assistance Dogs live with individuals with complex health conditions, such as Type 1 diabetes, Addisons and severe allergies. They detect minute changes in their personal odour and alert them to an impending medical event. These dogs keep clients safe and out of hospital and give them back their confidence and independence.
The charity's no kennel policy means all of the dogs live in the homes of the staff or volunteers.
Amazon's donation was made as part of the 'Amazon in the Community' programme, whereby the company supports the communities around its operating locations across the UK.
The £1,000 will allow the charity to continue to train Bio Detection Dogs and Medical Alert Assistance Dogs.
Shauli Ziv, General Manager at Amazon in Milton Keynes, said: "It's amazing just how much dogs can assist with human health. We are proud to make this donation to Medical Detection Dogs, as not only do they carry out high level research and training, they also take the welfare of the dogs extremely seriously."
Andrew Whitby-Collins, Chief Operating Officer at Medical Detection Dogs, added: "This donation will allow us to continue our research into a dog's ability to detect minute odour traces created by diseases. We are very grateful to Shauli and his team for supporting our dogs, our research and our cause."
Community donations are one of several ways in which Amazon is supporting communities across the UK during COVID-19.