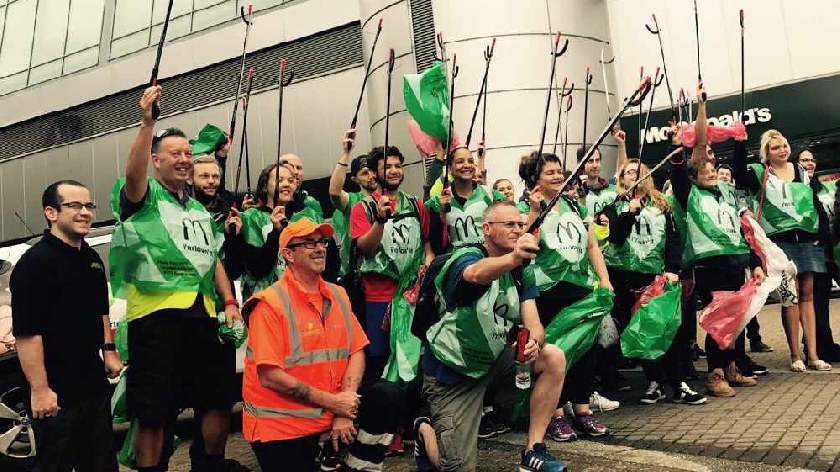 After months of planning, McDonald's in Milton Keynes have announced more information on their biggest litter picking ever 24-hour litter pick taking place on Wednesday 24th July!
Now, they are calling for as many volunteers as possible to turn out during the 24-hour period to make the event their biggest and most productive litter pick yet.
At 10am on Wednesday 24 July, volunteers will congregate at the Xscape branch of McDonald's before heading off on a 24 hour journey around Milton Keynes, taking in dozens of city estates in the process. The group is set to be the biggest in the event's history.
Ken Tomkins, owner of local franchisee Kaizen Restaurants, commented "We've been organising litter picking events in Milton Keynes for seven years now, and the last twelve months have been particularly important with award winning events locally."
"Our #LoveMK Day litter picks in May saw more individuals and local businesses engage with our events than ever before. Now, we hope plenty of new and familiar faces can join us as we help keep up the clean up on 24 July!"
Residents and workers who would like to get involved are invited to register their interest online at http://bit.ly/McD24Hour.
Approximate timings for the event are as follows:-
10am - Kicking off at Xscape

2pm - Stopping at McDonald's Kingston

5.30pm – Stopping at McDonald's Bletchley

7pm - Stopping at McDonald's Brickhill

10.30pm - Stopping at McDonald's Westcroft

2am - Stopping at McDonald's Wolverton

6am - Stopping at McDonald's near CMK Rail Station

9.59am - Stopping at CMK for breakfast and finish!
Please note timings are approximate, and you can stay up to date on our whereabouts on social media on the day!
Make sure you follow local McDonald's franchise Kaizen Restaurants Ltd on social media to stay up to date with local Love Where You Live events throughout the year. You can find them on Facebook, Twitter and Instagram by searching "KaizenMcDsMK".