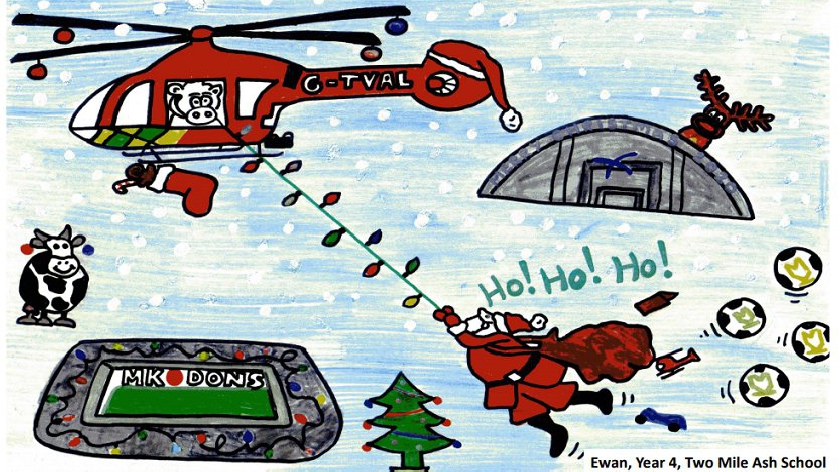 Seasons greetings sent from the Mayor and Mayoress of Milton Keynes will be electronic this year with card designs from local pupils and donations made to both of the Mayor's charities to reflect the saving in costs that would be made on printing and postage.
The Mayor and mayoress of Milton Keynes, Cllr Andrew Geary and Lisa Geary, recently ran a competition for all students up to and including year 6 pupils across schools in Milton Keynes to design his Christmas card for this year. The brief was given to include one or both of the Mayors charities for the year 2020/21 which are the MK Dons Sports and Education Trust and the Thames Valley Air Ambulance.
They received numerous entries of a very high quality and the judging of the eventual winner was undertaken by Dean Bowditch from the MK Dons SET, Katie Vincent from Thames Valley Air Ambulance and the Mayor. It was a tough decision but all three were unanimous in the eventual winner, Ewan from year 4 at Two Mile Ash School. A further two entries came very close and these were included on the back of the card. Both of these entries came from Loughton School, well done to Julia from year 6 and Patricia from year 5.
The mayor and mayoress would like to thank all of those who took the time to enter the competition and for giving the judges such a difficult time.
Cllr Andrew Geary says, "At the end of a most difficult year our grateful thanks to all of those who have worked so hard to keep us safe, to keep us well and have put others before themselves. We have seen first hand this year so many shining examples of selflessness and resilience from so many areas and members of our community and it is this above all else that has touched both of us in so many ways."
He continues, "We would like to wish all MKFM readers and listeners and everyone in MK a very safe and blessed Christmas season. It will be different and sometimes difficult this year, it won't be a Christmas that we're used to for many of us, but brighter times ahead are on the horizon for 2021 and we hope that the feelings of peace and joy and goodwill can override all of the disappointment that we may have of not being able to meet with friends and loved ones in the usual way. Enjoy, relax and stay safe and well. Andrew and Lisa Geary."
If you would like to support and contribute to the Mayor's two chosen charities this year please visit: https://www.justgiving.com/fundraising/mayor-of-milton-keynes-thamesvalleyairambulance and https://www.justgiving.com/fundraising/mayor-of-milton-keynes-mkdonsset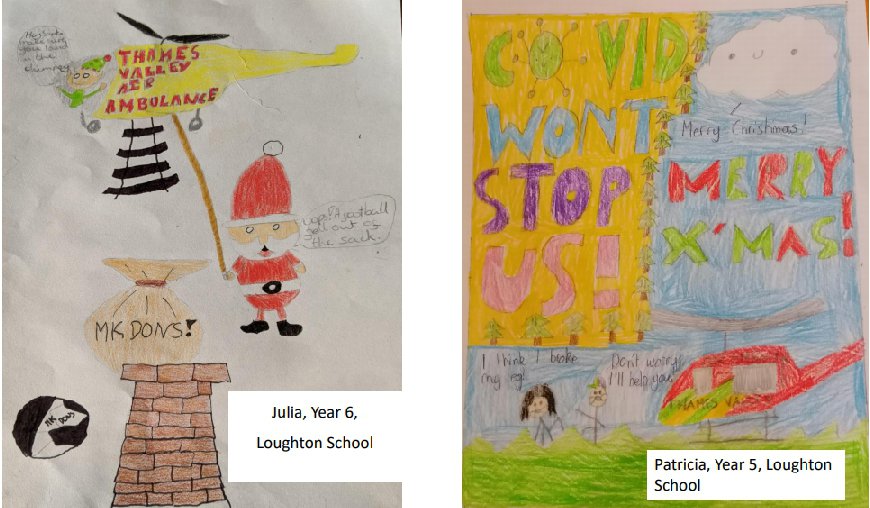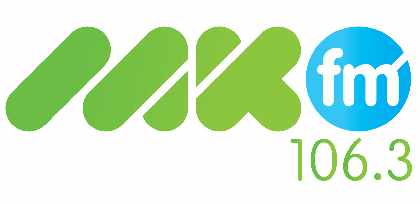 © MKFM News 2020