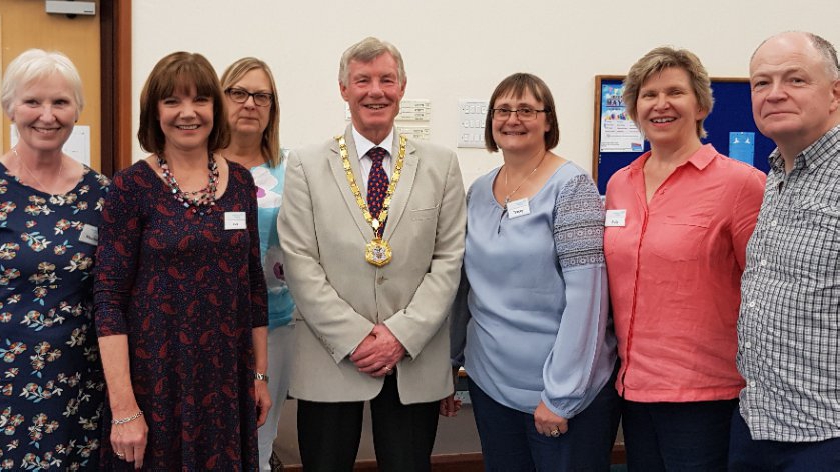 Members of the Milton Keynes Singing for the Brain group celebrated the 40th anniversary of the Alzheimer's Society in the company of the Mayor of Milton Keynes, Councillor Sam Crooks.
The Mayor united against dementia and witnessed first-hand how music can have a positive impact on people living with dementia. He met regular members of the group and their carers to find out more. He was accompanied by Marion Child, Head of Region for Alzheimer's Society and chatted to the staff and volunteers (pictured) who help make Singing for the Brain such a success in Milton Keynes.
The Mayor said: "It's been a great pleasure to join this lovely group of people all singing together and enjoying each other's company; I can see just how important music and singing are to people living with dementia".
Alzheimer's Society began in 1979 with a small group of passionate and determined people who shared an ambition to make life better for carers of people living with dementia. They united to improve care, support research and educate people about dementia.
From this handful of volunteers to over 20,000 today, volunteers remain Alzheimer's Society's life blood. Together with its employees, the society challenges perceptions, funds research and provides vital care and support. Alzheimer's Society is united in its aim of reaching everyone affected by dementia, so that no one will face dementia alone.
Marion took the opportunity to thank all the volunteers involved on behalf of Alzheimer's Society: "Without them, we wouldn't be able to offer these amazing services".
With more than 2,000 people living with dementia in Milton Keynes alone, the local services provided by Alzheimer's Society are vital. Singing for the Brain® is a service developed by Alzheimer's Society for people with memory problems. The programme promotes communication through singing which can help with articulation, concentration, focus and motivation.
Co-leader Ruth Martin said: "We have two groups here in Milton Keynes, meeting on alternate Mondays, and recently celebrated our fifth birthday. The sessions help people living with dementia to communicate, improving their mood and leaving them feeling good about themselves. We always welcome new members, so if you are interested for yourself or a loved one get in touch."
The groups are facilitated by Alzheimer's Society, with a team of dedicated volunteers who lead the music and provide a warm welcome for everyone. To attend Singing for the Brain® or to find out about Alzheimer's Society services locally contact Dee Cope on 01908 232612 or visit their website.