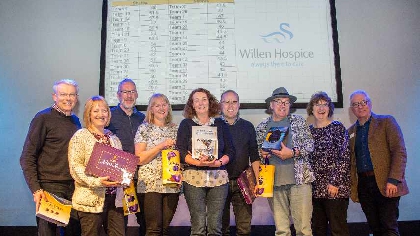 Willen Hospice is challenging local brainiacs to get together for their annual Quiz Night on Thursday 15 March.
The event takes place at the Ridgeway Centre, Wolverton, and will see teams battle it out across several rounds of general knowledge in an effort to be named Quiz Champions 2018.
Last year's winners the Mad Hatters have signed up again and are vying to retain their title for another year. Team captain Julie Lack, said: "The quiz was great fun and an excellent chance to get a group of friends together to raise money for a good cause.
"Willen provided care for my husband and support for me and my children when he passed away four years ago, so the chance to raise money for such a worthy cause and have fun at the same time was too good to miss. Quiz questions are just at the right level to stretch our minds but have a laugh at the same time."
Sarah Sweet-Rowley, Events Manager at Willen Hospice said: "Quiz Night is always great fun. Of course teams want to win, but there's really friendly competition between players who are all there to help us raise vital funds to support the end-of-life care provided by the Hospice. Grateful thanks to Mike & Angela Rhodes for creating, delivering and scoring the quiz again this year, we couldn't do it without their support."
Teams can be made of up to eight people and tickets are £80 per team. To find out more and to book a place, visit www.willen-hospice.org.uk/quiz or call 01908 303055.