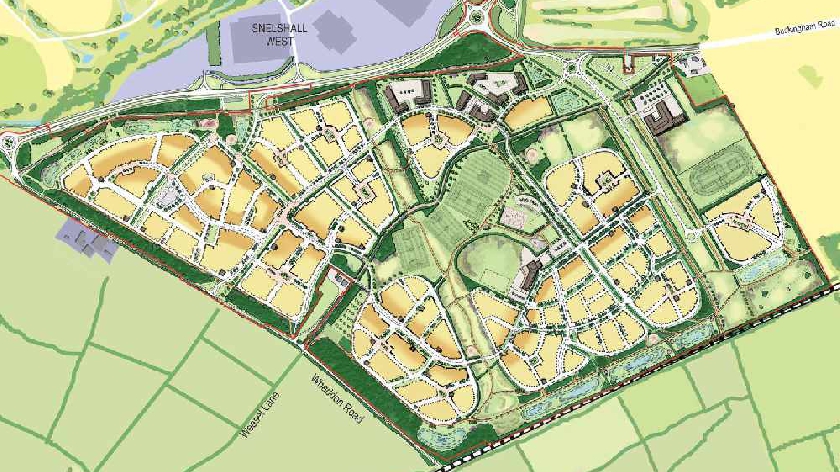 Salden Chase
The Salden Chase development, which would see thousands of people move to the area, has been given the green light.
This controversial scheme, which would be between Bletchley and Newton Longville, has been in the works since 2015.
It has caused friction amongst councillors and residents because it mainly sits across the border in Aylesbury Vale District Council (AVDC)'s area, and not Milton Keynes Council's.
Councillors on Milton Keynes Council refused the initial planning application on the Milton Keynes side of the border due to traffic and road design issues along the A421, by the Bottledump Roundabout.
This was the only thing stopping the development from getting the go-ahead... up until yesterday (26/7).
The Planning Inspectorate granted permission for the final part of the development following a planning appeal from the South West Milton Keynes Consortium (the developers).
This means that a big neighbourhood of up to 1,855 homes, shops, a primary school, a secondary school, and an employment area can be built.
There will also be "adjustments" made to Bottledump Roundabout and "new access" onto the A421 to accommodate the thousands of people that will be moving to the area.
The decision, which was made less than 24 hours ago, has already been heavily criticised by local figures.
Iain Stewart, the MP for Milton Keynes South, has slammed the planning inspectorate's decision as "poor and disappointing". He continued: "I will continue to oppose it. The Government has made it clear that developments like this should be considered as part of the Oxford-MK-Cambridge arc and properly coordinated. I have already raised this with the Minister and will do so again in light of [the] decision."
Cllr Allan Rankine, Councillor for Bletchley Park, added: "I am very disappointed the Salden Chase development will be going ahead. Local Conservative Councillors have been working hard to oppose the inappropriate and environmentally damaging site but unfortunately the developer's appeal has succeeded.
"I am concerned about the pressure this will put on already congested local roads and other public services and I will continue to fight hard on behalf of our residents and explore other ways of trying to stop this development going ahead."