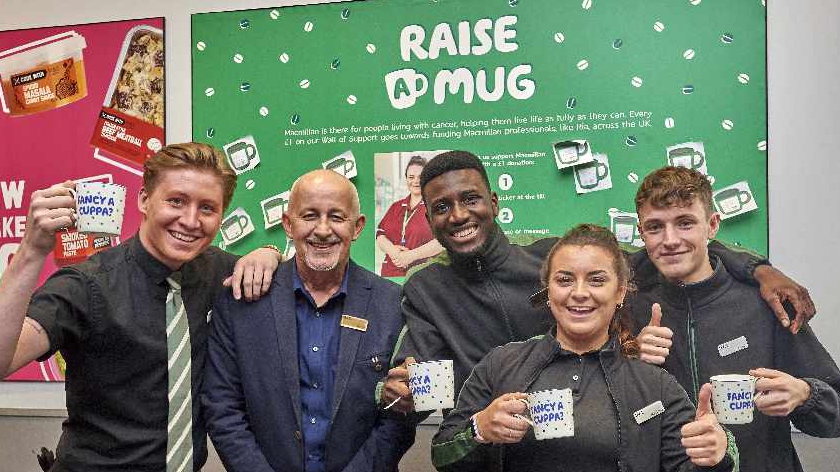 To celebrate their 10-year partnership with Macmillan Cancer Support M&S Food stores in Buckinghamshire are hosting activities to raise funds for people living with cancer, including an in-store Wall of Support and fundraising events on 27th September to mark the World's Biggest Coffee Morning.
To mark the fundraising milestone, stores including M&S Milton Keynes have introduced a Wall of Support to encourage customers and colleagues to share their messages of support to "Raise a Mug" for Macmillan or a loved one. Mug message notes will be available to purchase from check-outs for £1, and customers are encouraged to stick their message on the Wall of Support.
Alongside this, M&S Milton Keynes has lots of fundraising events and initiatives taking place including an in-store cycle challenge, sponsored silence and Coffee Morning, and customers can expect to see colleagues all dressed in green for the day!
M&S stores in Buckinghamshire are inviting customers to join them for an extra special cup of coffee and slice of cake throughout September, to help them support Macmillan. M&S Food is introducing more products into its Macmillan Coffee Morning range than ever before, with 10 per cent of sales from each product donated directly to the charity. Available throughout September, the range will include fresh cream cakes for the first time, with favourites such as Chocolate Eclairs, Strawberry Tarts and Jam & Cream Horns, as well as a delicious box of six Assorted Cream Cakes. Joining the cakes this year will be limited-edition "Fancy a Coffee?" and "Fancy a Cuppa?" mugs as well as a stylish and sustainable new travel cup for hot drinks on the move.
A special purple and green Colin the Caterpillar will be returning for a second year, among a host of other well-loved cakes, including a Lemon Drizzle and four-pack of Mini Victoria Sponges, all donating to Macmillan. M&S Cafés will once again be supporting by donating 5p from every coffee and slice of cake they sell throughout September, to Macmillan.
Last year, stores in Buckinghamshire raised over £22,000 to support Macmillan professional roles in hospitals and within the local community, such as nurses, occupational therapists and dieticians. Local M&S Food stores and Cafés will join forces nationwide to host Macmillan Coffee Mornings on 27 September.
Across a decade of fundraising, M&S Food has raised over £16.3 million as official partner to Macmillan's World's Biggest Coffee Morning. All donations from M&S go towards funding Macmillan professionals who support the growing number of people living with cancer to live life as fully as they can. In the last year alone, M&S Food raised almost £3 million, enough to fund 55 Macmillan professionals for a year. An incredible £2 million alone came from the World's Biggest Coffee Morning in-store events.
Laura Arnold, Store Manager at M&S Milton Keynes, said: "We're delighted to be celebrating 10 years of partnership with Macmillan's World's Biggest Coffee Morning and look forward to seeing thousands of people across Bedfordshire coming together once again to join us in stores to support Macmillan's Coffee Morning this year. The addition of the Wall of Support for 2019 is another fantastic way for the community to get involved, show their support and share their stories.
"With the number of people living with cancer constantly growing, widespread support has never been more important. Macmillan professionals are a lifeline for many patients and their families; giving crucial emotional support, helping manage treatment side effects and sharing practical advice like diet and lifestyle tips."
Adam Nash, Senior Partnerships Manager at Macmillan Cancer Support, added: "We're thrilled to be celebrating this milestone anniversary with M&S Food and having it marked with the brand-new Walls of Support. It's great to see Colin the Caterpillar is having a Macmillan makeover again and donning his purple and green sprinkles in aid of Coffee Morning. All the money raised by M&S staff and customers goes towards funding Macmillan professionals to help people with cancer live life as fully as they can."
Macmillan fundraising activity is taking place in stores across the region including Stadium Milton Keynes, Milton Keynes Kingston Park, Aylesbury Broadfields Foodhall, Aylesbury, Chalfont St Peter Foodhall, Gerrards Cross Simply Food, Risborough Foodhall, Wycombe Eden, Beaconsfield Simply Food and Harpenden Foodhall, among others.
Macmillan Cancer Support's World's Biggest Coffee Morning is taking place on Friday 27th September 2019. To get involved visit www.macmillan.org.uk/coffee and join the conversation on social media using #CoffeeMorning.
To learn more about Macmillan's partnership with M&S, please visit http://coffee.macmillan.org.uk/about/our-official-partner